Gay Beach Phuket Travel Guide
Phuket is Thailand's largest island, located on the west coast in the Andaman sea. Across the island is a range of beaches and towns each with its own vibe. There are no official gay beaches in Phuket. The gayest beach in Phuket has to be Patong beach. Patong is the largest resort town on the island and known for its lively nightlife both gay and straight.
Phuket has a lot to offer gay travelers. The island attracts tourists from all over the world, for its paradise beaches, gay-friendly culture, wild nightlife, and choice of hotels to suit every budget. If you are looking to party hard in Phuket and visit the gay bars on the island then we recommend staying in Patong. Or avoid Patong if you're seeking tropical relaxation.
Patong beach is the busiest beach on Phuket island, home to an active nightlife both straight and gay. Many gay tourists spend the day at their own resort beaches, which are spread out across the island, only venturing to Patong in the evening. Patong's status as the party capital of Phuket means that Patong Beach is (unofficially) the gayest beach around.
Patong Beach is 3.5km long, and the gayest section is in front of La Flora Resort Patong. Naturally, La Flora is close to the gay nightclub area around Paradise Complex.
The beach bars around La Flora Resort Patong usually fly rainbow flags, making them easier to find. However, don't expect any daytime parties: these venues offer chilled beers on the beach with deck chairs available for rent, not crazy beach parties. Wait for the nighttime for the real fun to start in Phuket.
If you are planning to stay in the heart of Patong beach, Holiday Inn Beach Resort is the perfect choice for you. With its stylish accommodation, it hasn't failed to charm its patrons. It is centrally located in the shopping, restaurants, and nightlife of Patong. Impiana Resort is also a perfect destination for people planning to stay on Patong beach, it provides a luxurious stay experience with a private patio. Its tropic gardens and mesmerizing sunsets will certainly charm you.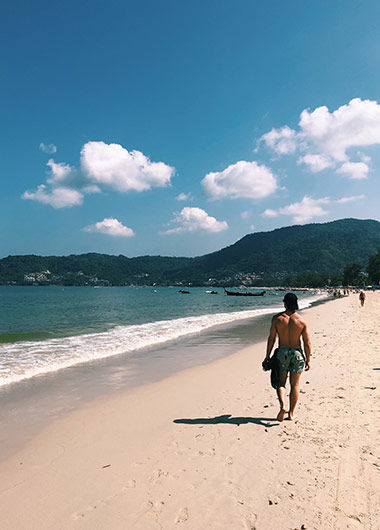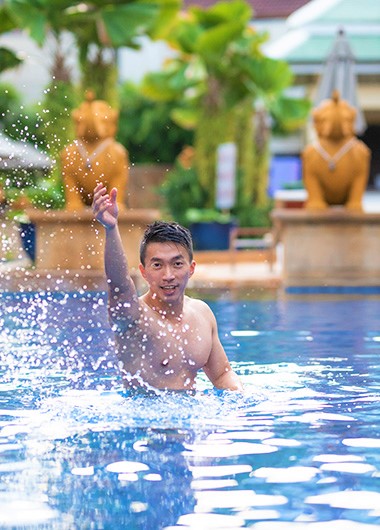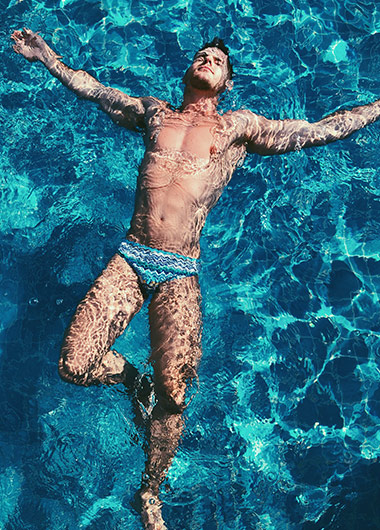 Freedom beach is located on Phuket's west coast and it's a true gem; The 300m long strip of white sand is surrounded by hills covered by thick vegetation. Freedom beach is difficult to access which makes it very peaceful and exclusive. Apart from sunbathing, one can also play beach soccer, volleyball, and snorkeling. There are no jet-skis or other noisy leisure activities at the freedom beach which makes it a must-visit for couples who want to get away from the crowded beaches.
Merlin Beach is a secluded stretch found via a long and narrow dirt road. It is very popular with couples and solo travelers, its white sands are complemented by coconut palms and coral reef.
Marriott Resort & Spa is located on peaceful Tri-Trang Beach is 3km from Patong. This resort offers 3 Landscape swimming pools and multiple dining options with a lot of recreational activities and private beach.
Avista Hideaway Phuket Patong – Mgallery is truly a hideaway from all the stress in day to day life and an escape to heaven. This resort has an on-site restaurant and 3 outdoor pools.
Rosewood Phuket is also a perfect resort if one is looking for a luxurious getaway. It is located in Tri Trang Beach in Phuket. It features an outdoor pool and water sports facilities. It overlooks the Andaman sea where guests can enjoy contemporary dining experiences at an Italian restaurant.
Kata beach encapsulates the idea of an exotic beach, palm-line, with clear waters and an offshore island, Kata is surrounded by granite rock at its northern and southern ends. In high season, the beach is further enhanced by a flotilla of visiting yachts and the beach offers good swimming and snorkeling opportunities.
The SIS KATA, Resort has cozy rooms and stylish outdoor infinity pools for guests' perfect getaway. The 4-star resort is accessible within a 16- minute walk which overlooks the calming ocean of Phuket, this luxury resort caters to every need one might have.
Impiana Private Villas Kata Noi offers mesmerizing views of the Andaman sea, With a private pool and a personal butler service, these villas are indeed luxurious. These villas are quite famous among couples visiting Patong for a romantic getaway or a honeymoon.
Karon beach is one of the longest beaches on the island, It is very family-friendly that has all the qualities to please any vacationer with fine dining, shopping, and an active nightlife. Karon beach is excellent for snorkeling or diving, the beach is so wide that one will never feel crowded. Karon beach is perfect for romantic walks by the beach or a dinner date by the beachside.
Centara Villas are a popular choice amongst couples who are visiting for a romantic getaway. It offers a beautiful view of the ocean with never-ending greenery, This villa offers a lot of privacy to couples and fun activities like Thai cooking classes to its guests.
If one is a fan of hills then the obvious choice would be Centara Grand Beach Resorts with green hills as a backdrop, it offers beachfront location along the Karon beach. Some of the rooms offer a stunning view of the Andaman sea, the resort has multiple dining options, ranging from Asian to international. Beyond Resort is truly beyond a resort because it offers only beachfront accommodations at Karon beach, their rooms come with modern Asian furnishing with a private balcony where you can enjoy the sunset.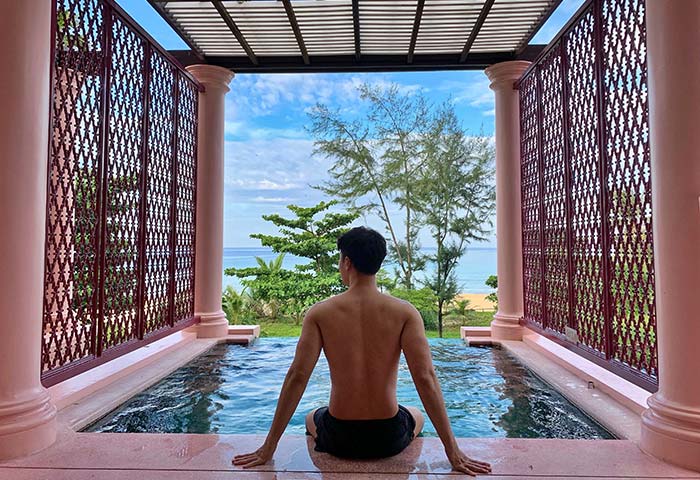 Kamala Beach lies just north of Patong, This is a quieter stretch of sand with a more relaxed feel. This well-enclosed bay and fishing village surrounded by forested hills is one of the most beautiful places in Phuket. Kamala has become a favorite sport for solo travelers and couples because of the peace it offers.
U Zenmaya Phuket is just 10 min drive from Kamala and Patong beaches. It offers modern rooms with Sino-Portuguese decor. It can mesmerize you with their sunset views and the Andaman sea and a range of Asian cuisines.
Keemala Resort is located amidst lush flora on the top of the rolling hills overlooking Kamala village and Andaman sea, the resort has a spa and wellness center, soothing massage treatments and a restaurant. It is a perfect getaway for solo travelers looking for peace and tranquil.
Hyatt Regency Phuket Resort is located up a steep hillside overlooking Kamala bay at the southern tip of Kamala beach. It offers an outdoor infinity pool, spacious room and private balcony overlooking the Kamala Beach.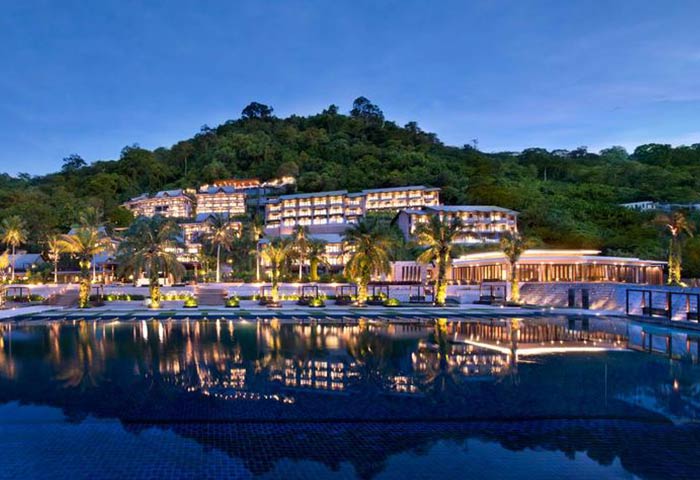 Located between Kamala and Bangtao beaches, Surin Beach offers fun activities for gay couples like picnics and barbeques. It is famous for its soft yellow sand and its crystal clear waters. Surin is also known for snorkeling and kayaking and the beach is lined with casuarina trees.
On a short stroll, Manathai Resort is located for a traditional Asian-modern fusion stay, their rooms come with a lot of warm natural lighting with all the amenities that one could ask for. It's a 30-min drive from the international airport and offers traditional Thai and international cuisine.
One can also choose to stay with TwinPalms, located just 175m from Surin beach, It offers spacious accommodations with private terraces with pool views. It also has a saltwater pool and restaurant. The resort's oriental spoon grill & bar feature both indoor and outdoor dining areas which cater to local and western favorites and a variety of drinks.
Mai Khao Beach is located on the northwest coast of Phuket, this beach is a part of Sirinat National Park. The beach is blessedly undeveloped which makes it very peaceful and excluded from the general public. The sand of Mai Khao Beach is coarsest of any Phuket, It is practically deserted a lot of time. A short distance out into the water there is a sharp drop off into the Andaman Sea. Even though it's very secluded, one of the major establishments being Renaissance Phuket Resort & Spa, located on the white sands of the Mai Khao beach. This resort offers a large outdoor pool, jogging and biking trails, and 5 restaurants. This is a perfect getaway for solo travelers and large groups as A range of recreation activities are available for all ages including yoga classes, pilates, aqua aerobics, Thai boxing and bike tours. SALA Phuket Mai Khao Beach Resort is an excellent choice if one plans to stay at Mai Khao Beach. It is quiet and peaceful and offers a lot to its patrons, With private pools, sundecks and spa, This resort is a perfect location for couples and solo travelers looking for some alone time.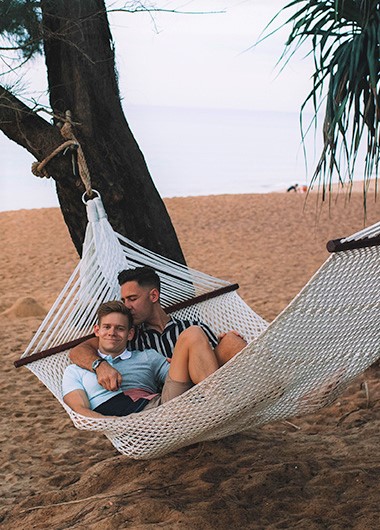 Naka Island has one small village on its west side, in a blink of an eye, the island has transformed into an exclusive resort location. The majority of Naka Island beaches are broad and sandy, and along its eastern shores, the view out across Phang nga bay are simply breathtaking. There's not much to do in Naka Island except swim, sunbathe and take strolls along the beach.
The Naka Island, A Luxury Collection Resort & Spa is a collection of 67 luxuriously appointed five-star villas and offer one of the most splendid views of Phuket. The villas comprise of Tropical pool villas; Seaview pool villas; beachfront pool villas and Royal Horizon Pool Villas. This resort will take your heart and breath away with its stunning tropical pools and sea view villas.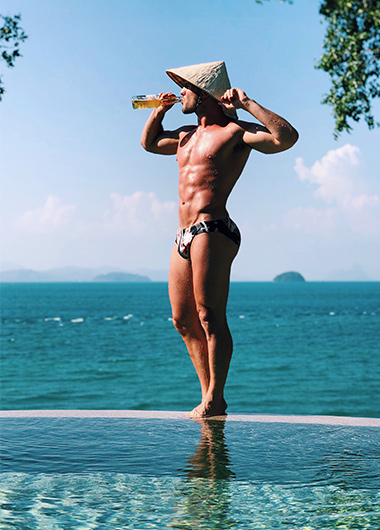 Panwa beach hasn't changed in spite of intensive urbanization in the area, It is still a peaceful and a haven for people who enjoy some quiet time. Panwa beach is eight kilometers east of Phuket town. It is very scenic with views, it's rough sand and shallow water might be perfect for you to enjoy. The entire beach is lined up by luxury villas which can be very confusing for first-time visitors but Pullman Resort at Panwa beach is what you should prefer, It offers the scenic beauty of the Markham bay, with contemporary-design rooms with a hint of thai accents you might get awestruck by the beauty of this place. On a lazy afternoon, one can also relax at the beachfront pool or avail of the spa facilities surrounding the pool.
Bangtao is located minutes away from the town of cherng talay, it is 6 km long beach which is mainly occupied by resorts, The northern tip of the beach, so far untouched by the development offers peace and tranquil to its visitors.