4 InstaStuds Reveal What They Did and Didn't Do
You don't want to miss out on this fun (and boozy event). Circuit Festival Barcelona is a breathtaking event dedicated to the LGBT community and that's the great reason why guys are dying to take part. It is one of the biggest international events in Europe. It brings more than 70,000 people from all around the world together to dance, cultural activities…and of course, to party!
1. Circuit Festival Barcelona can last a crazy 11 days? What do you recommend as the ideal length to go?
If you have energy go-for-it! I've chosen to visit Barcelona for 7 days matching those days going to the party at Circuit Festival. I recommend you check which parties you like more or want to try. I've started my marathon on Sunday, missing the openings parties because I knew most of the internationals would be arriving on the weekend. But all the parties are amazing. Choose your crew, theme, and enjoy it!
2. Can we believe in those photos? Is it worth it?
Yes! Circuit Festival Barcelona is worth it, all the photos and videos are real but of course, being there it's even better than just pictures.
3. They host 17+ parties, what are your favorite and what not to miss?
I've been to Matinee After Sun Pool Party, The Week Brasil, Waterpark, Pervert, Papa Party, La Leche. I've been to those parties and I loved all of them, each one with a different vibe. But for sure if you are coming to Circuit Festival you definitely have to go to WaterPark, it's an unbelievable experience.
4. Is it comparable to other circuit parties such as Tel Aviv Pride or XLSIOR Mykonos?
I don't think the Circuit Festival Barcelona should be compared to other festivals because each one has its own essence and different vibes, remember that they are all in different cities, countries, cultures. Barcelona is an amazing, fun gay city and most of the people who are coming to the circuit are going to share good vibes and have fun.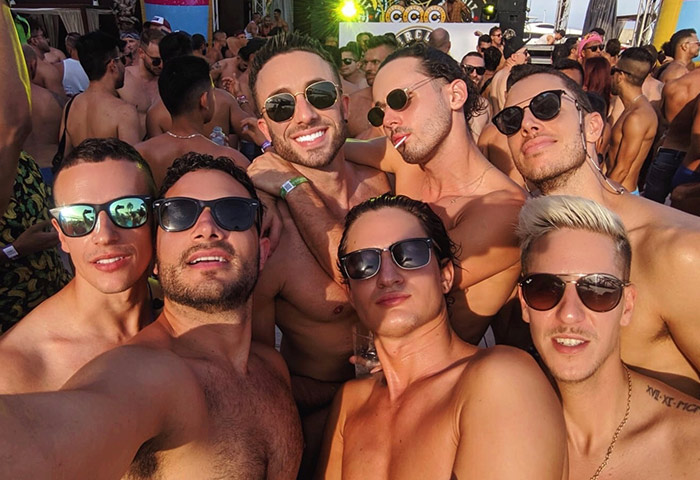 5. What if one doesn't feel like going to Circuit Festival Barcelona for a change, are there any exciting things to do?
Yes, on the days/night I didn't feel like going to the circuit parties, I've tried other clubs and pubs in Barcelona. Saunas in Eixample everyday busy, mostly after all the circuit parties with big lines to get in till late morning. You must check out Mar Bella Beach as it's where all the gays are posing, drinking, meeting new friends, and getting a tan to party over the night.
6. Did you stay in Barcelona gayborhood?
I've booked an Airbnb house in Eixample, very close to everything that I need, gay area, restaurants, gym, saunas. For sure that's the best area for those who are coming to the circuit.
7. Tip for a circuit festival virgin
Stays in Eixample, where is easy to go to the bus point who takes you to most of the parties. Choose which parties are more your vibe because even if you want to go to all the parties, after a few days of parties you don't have much energy to keep enjoying your marathon.
8. Well, how would you describe Circuit Festival Barcelona in 3 words?
Summer, Fun, Energy
9. Be honest, would you go back?
FOR SURE! I'M DEFINITELY COMING BACK?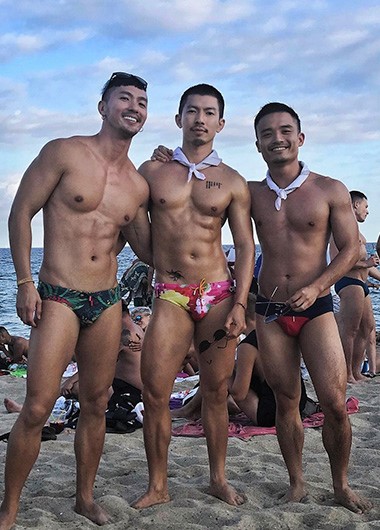 1. What is it about the Circuit Festival Barcelona that you two think worth checking out?
It's worth the hype as the Waterpark was something new for us to discover and Latinos are always eye candy.
2. How long did you go for?
We only went to 4 parties. I think it's good enough for us we also spent time exploring the city and not just partying.
3. Out of the 17+ parties, which one are not to miss?
The waterpark is for sure our favorite as it's the whole day event at daytime and also night party. Other parties like Forever Tel Aviv, Pervert, and closing party LaLeche are not to be missed!
4. Have you been to any other European circuit parties such as Tel Aviv Pride or XLSIOR Mykonos?
We actually have never been to any others, as this was our first European party ha!
5. How did you make the most of your trip? We're talking about…saunas and beaches that are worth a visit.
The well-known Sauna Casanova is worth a visit and it's the best to visit during the circuit festival period as you'd get to see a lot of hot visitors??? And gay nude beach Platja de la Mar Bella definitely is a must-go beach!
6. What was it like where you stayed? If you went back, would you rather stay in the same neighborhood or…?
We stayed at Four Points Hotel which is quite convenient and very accessible to town and also eateries. Would love to explore other neighborhoods for sure if I revisit the city.
7. There will be Circuit Festival Barcelona virgins, what would you say to them?
Go with a group of party friends, buy your party tickets earlier so it's cheaper and just be yourself and have fun!
8. Describe the Circuit Festival Barcelona in 3 words?
Sexy Fun Aphrodisiac
9. It's quite a long way from Singapore, will you two go back again?
We would go back again if we have a group of friends who would love to go with us, else we prefer to check out some other European parties like Amsterdam Pride or Brussels.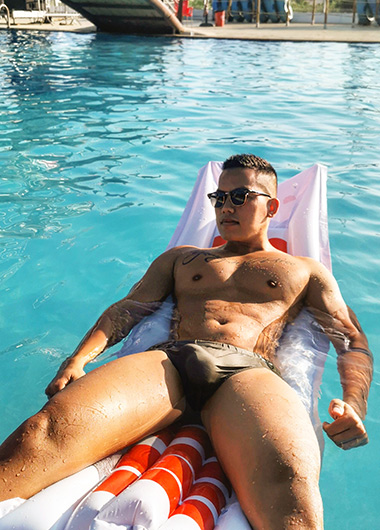 1. It looks like all the Instagram royal attends, are photos like reality?
Photos on Instagram (pictures where people smile, have fun, enjoying parties) are really like reality. It's because Circuit Festival Barcelona is 1 time per year, and it's in summer, so people go there for enjoying their summer with only one word in their mouth… "FUN"
2. It's an 11-day event, how long did you go for?
Personally, I'm going there for the last 6 or 7 days, because you will find most of the big parties like the Waterpark Party, or the Closing Party.
3. Can you name three best out of 17 parties?
Hmmm… my favorite is the Pervert party, WE Party, and Waterpark
party.
4. Are there any other similar events you wish to go to next?
I'm sad to read this question because I'm just back from Mykonos, I was there because I've planned to go for my first XLSIOR, but unfortunately, due to covid-19, the festival was canceled.
5. What is the best beach to go to during the circuit?
Just one word, PLAYA MAR BELLA, it's the best period to enjoy this beach haha.
6. Which neighborhood should one find their hotel in?
My favorite area in Barcelona is Eixample… You will find most of the gay bars, shops, it's close to Placa Cataluna, the central place in Barcelona.
7. What should a Circuit Festival Barcelona virgin know?
Don't be shy, no stress, comes with most of your friends you can, but if you come alone, friends will come to you.
8. Let's see your best 3 words for Circuit Festival Barcelona
Gay, Fun, Waterpark
9. Three guys above said they would go back for more, what about you?
Is that a real question?! Errr, for sure I will!
As you made it this far down, it's probably worth keeping us in mind for your next trips on Instagram & Facebook