Bangkok is wild and it should be! But how to relax after all that fun?
After the long nights partying, days hitting the malls and Thailand's incredible tourist sites, it's time for some real relaxation. This is where So Thai Spa and their signature package treatments come in. Who doesn't want to be pampered for 4 hours straight?
It's the perfect remedy after experiencing Bangkok's infamous traffic, the humidity, and the city's non-stop pace. So Thai Spa has two ideally-located branches and everything you need to wind down, including mind-meltingly indulgent packages at extremely affordable prices.
Why We Love It:
Incredible value, especially on the long 4 and 5-hour packages
Quality treatment using only the best Thai products and ingredient
Impeccable service and wide range of treatments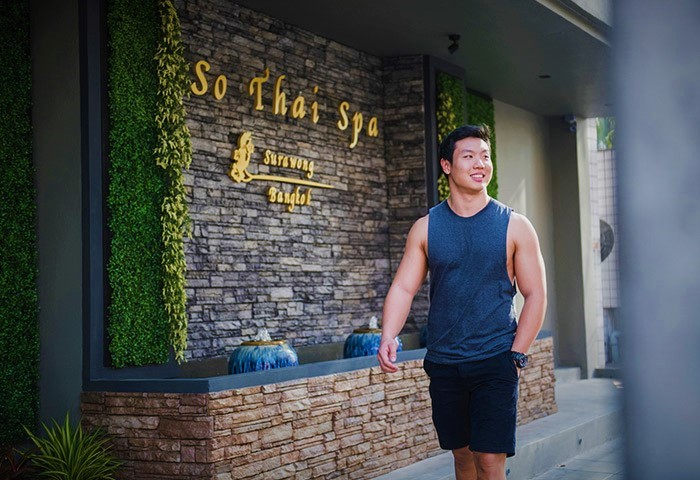 Locations
There are two So Thai Spa locations in Bangkok: one in Surawong and one in Sukhumvit. The Surawong branch is the most conveniently located for gay visitors, since it is located 20-minutes' walk from the Silom gayborhood and the heart of Bangkok's gay nightlife. Chong Nonsi BTS station is just a 10-minute walk away or 15-minutes' to Sala Deng BTS station.
The Sukhumvit branch is set in a traditional Thai house, 20 minutes from the heart of Sukhumvit at Asok BTS station. This is an area filled with hotels, hostels, restaurants, and the ever popular Terminal 21 shopping mall.
Treatments
Both locations offer a wide range of decadent treatments, all using exclusive Thai products. Some of the more popular options include the foot massage and the aroma oil massage, for which visitors can choose between a range of traditional, evocative scents, with the Thai classic herbs of lemongrass, jasmine, and rice. Traditional Thai massage, Swedish massage, hot stone massage, and four hands massage are also all available, among others. Scrubs are also very popular, and leave your skin feeling silky-soft.
So Thai Spa also offers several unique treatments, such as the Jet Lag massage, designed to alleviate the symptoms of long-haul flights, or the East Meets West massage, which takes the best from various techniques from around the world.
Packages
So Thai Spa specialize in long, supremely indulgent packages. These can last up to 4 or 5 hours, and usually include a combination of body scrub, body massage, foot massage, scalp massage, and facial, as well as other unique touches like a compression treatment.
Their most luxurious 5-hour package costs 6,600 THB for a couple (4,400 THB for an individual), which amounts to just over $200 for two people – an absolutely unbeatable price for the amount of pampering you are getting. The most popular treatment is the SO THAI LUXURY, a 4-hour package consisting of a foot massage, gold body scrub, aroma oil massage, herbal ball or spa facial, and head massage – just 5,600 THB ($180) for a couple.
Of course, several shorter 2-hour packages are available. The most basic, consisting of a foot massage and a Thai traditional massage, costs just 1,400 THB ($45 USD), making it an accessible luxury for even the most cash-strapped of budget travellers. As seen above, several packages have a reduced price per person if you book as a couple.
Facilities
The Surawong branch is based in a modern, recently renovated building, with decor that blends traditional Thai elements with a contemporary feel. It has six large treatment rooms, each with their own private bathroom and shower and all suitable for couples' treatments.
The Sukhumvit branch is slightly larger, with a more traditional Thai design and seven treatment rooms. It also has a lovely small swimming pool surrounded by greenery, which you can relax in during hot days. This branch is more popular with families – as the treatment rooms can accommodate up to three people, it is a great place for parents to get treatments with their kids.
Service
Both branches offer exceptional service, with attentive and welcoming staff, all of whom speak good English. From the second you enter to the moment you leave, you will be treated with every care and attention. Lovely touches like complimentary bael fruit tea help to make the experience even more special.
Chat to the team and ask your questions, the So Thai Spa are so incredibly responsive on social media, it's very easy to book treatments. Just reach out to them via Facebook Messenger or WhatsApp for super fast replys. Due to the spas' popularity, it is best if you reserve your treatment at least 24 hours in advance.
Sukhumvit Branch
269 Sukhumvit Soi 31, Klongton-Nua, Wattana Bangkok, 10110
Open Daily:- 10AM – 10PM
Phone:- +66 2662 2691
LINE | WhatsApp:- +66 89 659 6515
Surawong Branch
181/16 Thanon Surawong, Suriya Wong, Bang Rak, Bangkok, 10500
Open Daily:- 10AM – 10PM
Phone:- +66 211 79 451
LINE | WhatsApp:- +66 918 154 162