Looking for your next travel inspiration? We followed Kuba and Paul who spent 10 days visiting Thailand and Singapore to find out where they stayed and what they thought. This adorable couple, live in Edinburgh, Scotland and originally Kuba is from Poland and Paul is from Singapore. Both guys are experienced travelers having visited 36 countries on 6 continents and still counting.
As seasoned travelers of South East Asia, these guys know what they were looking for. Time in the cities' for shopping, drinks, and amazing food followed by some quiet beach time. After flying into Bangkok, they opted to avoid the tourist beaches and visit the relaxed waters of Rayong on Thailand's east coast before returning to Bangkok. Next up they flew to Singapore, a special place as it was here they met while Kuba was studying.
To keep up with this adorable couple be sure to follow them on Instagram at @kubadarling and @peeseejay.
We may receive compensation when you click on links but it will never cost you any extra. For an explanation of our Advertising Policy, visit this page.
Holiday Inn Express Sathorn Bangkok
Bangkok
After flying 16 hours from Edinburgh to Bangkok all you want is an early check in to a comfy hotel. Kuba and Paul choose to stay in Sathorn / Silom neighbors, the Bangkok's central business district but also the city's gayest neighborhood, walk to the gay bars along Silom Soi 4 and the clubs in Silom Soi 2. Explore the Bangkok Guide
What did you think about your hotel? From the hotel, you can walk to Bangkok's gay nightlife and some of the city's best tourists attractions, temples, Skytrain and Bangkok's famous street food. The staff at the hotel were excellent, really great service as Thailand is famed for. Chefs – keep up the good work! The food in the hotel was really tasty, both for breakfast and in the restaurant. Other than the restaunts the facitlies are a bit limited however, it didnt really matter, staying in the hotel while in Bangkok is not the point!
Rayong Marriott Resort & Spa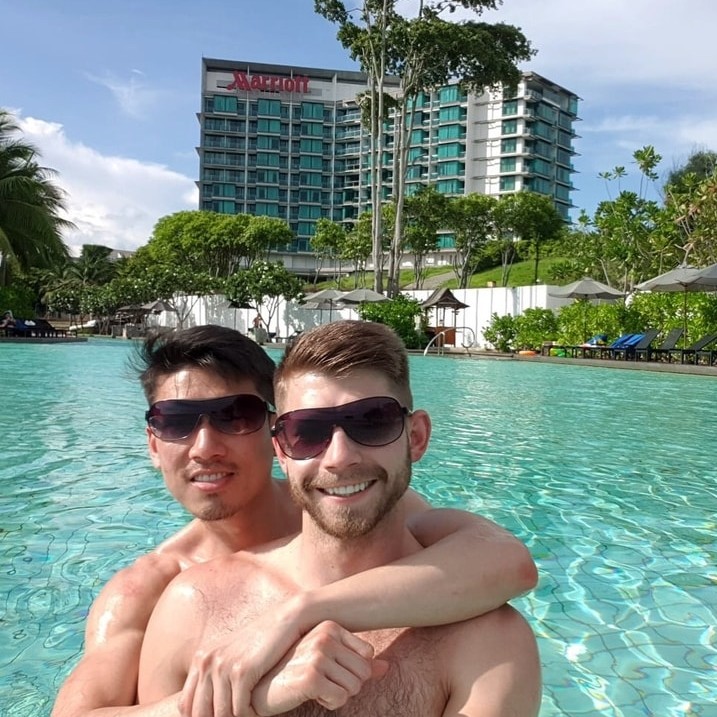 Rayong
Rayong on Thailand's east coast is one of the country's lesser known beach destinations. Quiet, relaxed and peaceful. The area is popular with Bangkok locals looking to escape the city and crowds. Rayong is easily reachable from Bangkok, just 2.5 hours drive and only 1 hour from Pattaya. Plus for gay travelers, the popular gay weekend party island of Koh Samet is just 15 minutes away.
What did you think about your hotel? We had a great time at Marriott in Rayong. Overall, the hotel is pretty amazing. The pools and the spa would definitely be our highlights. The room had such a great view, even from the bathtub. The punching bag in the gym was an unexpected highlight for me. All the staff are all very professional and helpful. Tasteful interior and exterior design throughout the hotel. Great food, big fan of the smoothie station at breakfast.
Rayong is not an obvious choice for someone not familiar with Thai resorts – it is overshadowed by places like Krabi, Phuket, Koh Samui but we really liked it. 
Bangkok
Back to Bangkok after 4 days on the beach. Some temples, shopping, and more sightseeing. This time staying in the Siam neighborhood only 15 mins away from Silom/Sathorn by taxi or skytrain. Siam is the shopping heart of Bangkok with the megamalls of MBK, Paragon, and Centralworld. Explore the Bangkok Guide
What did you think about your hotel? As the name suggests, the hotel has an interesting design throughout, very Instagrammable. The room was particularly beautiful. Helpful staff, especially the reception and the club lounge. Good location, central and very near to the BTS Skytrain. The gym equipment is better than your average hotel typical and I liked that it was so spacious.
We also really enjoyed the live music – over two nights we had a pleasure of seeing two bands and both were really great!
Holiday Inn Express Singapore Clarke Quay
Singapore
More than just a stopover destination, Singapore is an impressive city with towering architecture, manicured gardens and a surprising gay nightlife. Considering sex between guys is still illegal, the city has a number of packed gay bars and clubs. Explore the Singapore Guide
What did you think about your hotel? Convenient location close to both Clarke Quay and Chinatown. Walking distant to the gay nightlife of Neil Road. Loved the rooftop garden – it gives comfort and relaxed atmosphere to a hotel otherwise located in a busy area – so does the layout of the ground floor outside sitting area, with lots of plants and the water pond. They really got it right with the design.