Follow Sam and Drew as they explore the luxury side of Phuket visiting three incredible 5-star hotels.
sammcdougall & drewelphick spend six nights in Phuket visit three unique hotels showcasing the different parts of the island. They started in Patong, the island's party hub and key beachfront city. Patong offers a mix of city attractions, great restaurants, nightlife including some popular gay clubs and nearly 3km's of white fine sand. The second stop takes them to Mai Khao Beach on the northwest coast of Phuket. This peaceful beach stretches 11km and is undeveloped except for a handful of luxury resorts. Their final destination is the island of Naka Yai, a short 10-minute boat from Phuket. The island is home to just one exclusive resort. Sam tells us more about his time in Phuket below.
To keep up with these adorable travelers be sure to follow them on Instagram sammcdougall & drewelphick.
This post contains references to products from one or more of our advertisers. We may receive compensation when you click on links to those products. For an explanation of our Advertising Policy, visit this page.
Patong, Phuket's Party Town
Millennium Patong Phuket was the first stop of my Thailand getaway, and I couldn't have asked for a better start. My flight got in late and we arrived at around midnight to check-in, thats when the friendly team at Millennium showed us to our beautiful room which they had upgraded to have private pool access. Millennium is perfectly located in Patong which allowed for a short walk to the beach, the best shopping and also the famous Bangla Road. On top of it's great location, the resort itself had an amazing pool (with bar!) and gym facilities we used every day, and the buffet breakfast was also a highlight.
Staying at the Millenium as a gay guest, we felt more than welcomed and comfortable. By the end of the stay, all the staff knew us by name and were giving us advice on what to do, including making dinner reservations with the best seats in the house at Joe's Downunder, a must do for a good meal and best view of the sunsets. Honestly, the highlight of our stay was seeing how excited the team at Millenium were that we were enjoying ourselves so much.
Peaceful Lux at Mai Khao Beach
The Renaissance Phuket was the second stop on our Thailand trip, and it did not disappoint. The Renaissance is away from the hustle and bustle in the Thalang District and is only 20 mins from Phuket Airport. From the moment you arrive into the property at Renaissance we were blown away at how beautiful it was. Located right on the beach (stunning white sands and crystal blue water which we basically had to ourselves), we spent our time here doing nothing (literally nothing) but relaxing. The location down by the waterfront right next to the amazing pool is a must for afternoon drinks (try the berry margaritas!) as well as the most beautiful buffet breakfast you could ask for, situated on a big deck over a pond where you could easily sit for hours and just keep eating.
To top of the stay at the Renaissance, the staff were kind enough to upgrade us to a private villa which had its own private pool which our bedroom opened up to, and to be honest we spent a lot of our time relaxing here. I would also highly recommend visiting the spa (you will understand when you see it – it's incredible) and taking advantage of the free activities that the hotel hosts every day (we did Thai boxing each morning with a trainer which we loved!). Overall, Renaissance get's a 5 star rating, a must do if you truely want to relax and be pampered.
The Renaissance Phuket were more than accommodating and some of the kindest people in Thailand. The privacy and luxuriousness are second to none, and the activities on offer each day (boxing, fitness, stand-up paddle-boarding etc) were really fun and a good way to break up your day of doing nothing but relaxing.
Pro Tip – check out the Pride and Joy Couples Romance Package to make your stay extra special.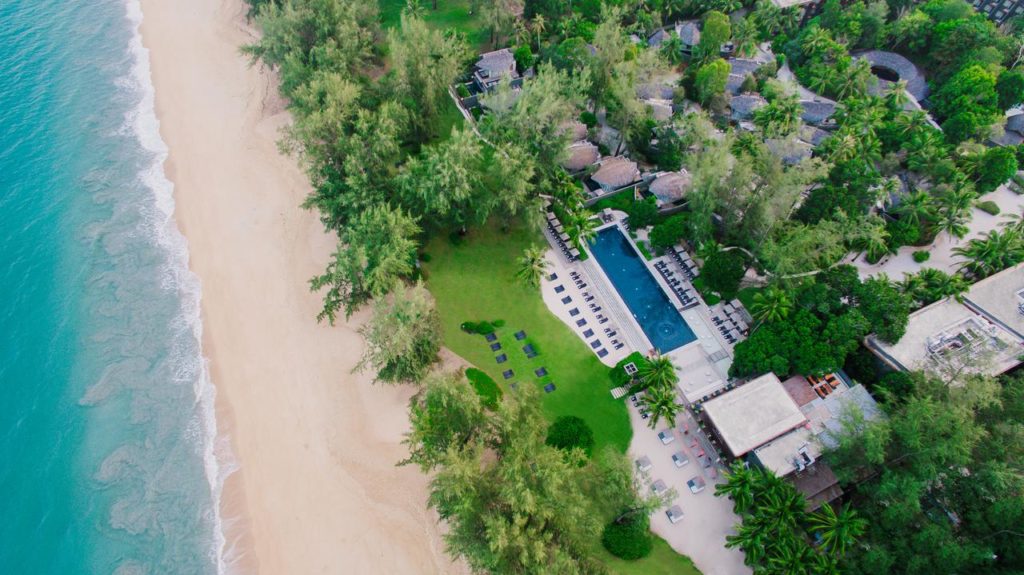 Honeymoon Vibes at Naka Yai Island
The Naka Island was one of the great highlights of this trip. A short 10 minute boat ride off the mainland, we arrived to Naka on the jetty where we were welcomed to island by ringing a gong (a tradition on the island when arriving) and greeted by the most beautiful staff. We were driven around the resort and shown all the facilities, and then taken to our villa. When we opened the doors and were shown into our villa my mouth literally dropped. I have stayed in some nice places in my time, but nothing had compared to this. The trip turned from a holiday to what felt more like a honeymoon. Words won't describe how beautiful the villa was and how luxurious we felt. We decided to stay an additional night at the Naka because we literally just did not want to leave.
We would start each day with a run around the island, exploring the jungle, the beaches and the small town in the centre, we'd would take advantage of the amazing buffet breakfast (get the pancakes, trust me) and then either lay by our private pool or wander down to the main pool. One morning we were lucky enough to be served a floating champagne breakfast in our own villa pool which was incredible (see the pictures for proof!), and we also took advantage of the hotels activities including Thai boxing, the gym, Thai language classes and also canoeing through the mangroves (a must do!). The staff also arranged for day boat trip to a few of the surrounding islands, including the famous James Bond Island which is another must-see (especially just before sunset).
Overall, words can't describe how amazing the Naka Island stay was. We will definitely be back. And for anyone looking at an overseas wedding, or honeymoon spot …. Naka Island is it!