As if you needed any more travel inspiration to visit Thailand! We followed Sascha from the delicious Instagram account of Sasho209, who spent two weeks exploring the boardwalks of Krabi in Southern Thailand to the nature and culture of northern Thailand in Chiang Mai. Three luxury gay-friendly hotels, two stunning destinations and too many Insta-envy pics from the gram.
We may receive compensation when you click on links but it will never cost you any extra. For an explanation of our Advertising Policy, visit this page.
Ao Nang Natural Paradise in Krabi
Krabi is perhaps Thailand's most beautiful beach destination. Famed for its turquoise waters, powdery white sand beach, dramatic and cliffs and pillars that stretch up out of the sea. Famous beaches in Krabi included Ao Nang, Railay and Klong Muang. Krabi also has its own airport and a large ferry network making it easy to get around and reach nearby Koh Phi Phi, Koh Lanta, and Phuket. From Krabi you can easily reach Phuket, Krabi's more famous cousin, it's just a two hours drive to reach Phuket.
What did think of your Krabi hotel:
What I liked most was the location on a secluded bay with almost a private beach. Dispute all the hustle and bustle going on on Ao Nang this felt like paradise. The resort is nestled in a natural forest and hence feels very green. We enjoyed our large ocean-facing room which had all the amenities you could wish for. We tried the Thai restaurant and felt it had been one of the best we visited in Ao Nang. All the hotel staff was super friendly and professional, nothing to complain about at all. We made use of their free kayak rental several times to explore to nearby Railay beach. Overall we would definitely visit this resort again when in Krabi.
As gay travelers how you feel staying at this hotel:
No one seems to care if your gay, straight or whatever. We felt very welcome and treated the same friendly way as every other guest in this resort. I think gay guests will value the calm, relaxed vibe of the hotel most. We also liked the well-appointed gym, the two pools, the big clean beach, and free kayaks. The main pool is more crowded and has a nice beach bar, music, and entertainment. The other pool is quiet and you can have it almost for your own.
There were some other gay guests, but this is definitely not an Ibiza style party location. If you're looking for that this might not be the right place for you.
Culture and Luxury in Northern Thailand
Affectionately known as Thailand's cultural capital, Chiang Mai offers visitors a chance to explore the countries rich historic cultural attractions. The city center is still inside the historical walls and moat from its former position as the capital of the Lanna Kingdom which translates as "the land of a million rice fields".
The city is the largest in northern Thailand, with nearly one million people in the greater area. This trading city developed a mix of cultural identities which can be seen in the local Buddhist temples showcasing a mix of Burmese, Sri Lankan and Lanna Thai style Buddhism and architecture.
What did you think about the hotel: Everything in this hotel was top-notch. There isn't a single thing we didn't like. Our room (a suite) was huge with a very nice Asian inspired contemporary design and included lounge access, which was nice for complimentary drinks and appetizers throughout the day. The breakfast was outstanding with a large buffet and several items made a la carte. Tea time was fun as well, including several sweets and drinks. We enjoyed both breakfast and tea time at their very nice terrace overlooking the river. The staff made us feel welcome from the moment we checked in. Everybody was super attentive and there to help with any requests we had (half-day trip to an elephant sanctuary, drivers, late checkout, etc) We also enjoyed their 90 min signature massage in their charming spa, which has been hands-down the best we ever had in Thailand. The hotel is situated directly at the river and only a few walking minutes away from Chiang Mai city center.
As gay travelers how you feel staying at this hotel: This hotel delivers a high-class experience regardless if you're gay or not. I'm sure all guests will appreciate the luxury and top service provided by the hotel. Saying that, the hotel is located very near to Chiang Mai's best gay bars, and just across the street is Ram Bar famous for its drag shows.
Luxury by Design in Chiang Mai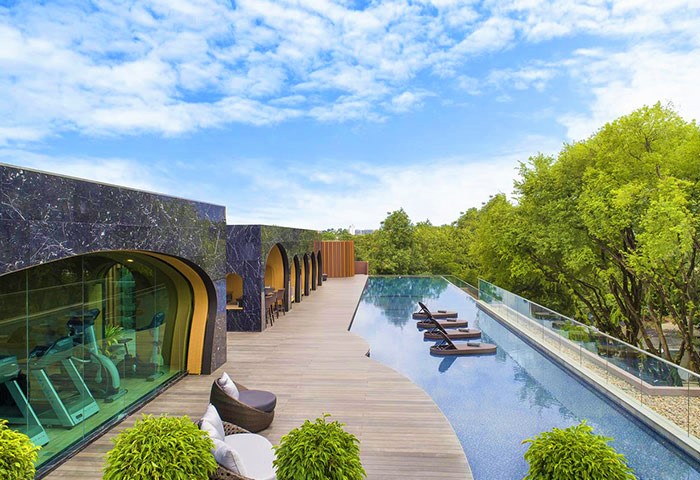 Sitting along the Mae Ping River, Chiang Mai grew into an important trading hub. Mae Ping is a major tributary to the Chao Phraya River which flows down to Bangkok and the sea.
Chiang Mai offers a more relaxed alternative to some of Thailand's other main destinations, forgot the booze buckets and enjoy a refreshing experience of Thai tradition and slow paced life. Chiang Mai, like all of Thailand is very gay-friendly. The city has a small gay scene with a handful of gay bars and two gay saunas.
What did you think about the hotel: The hotel is new and has a very modern style with a stunning rooftop pool. Our room was large with a balcony with a nice view of the garden and the river. We took the chance and had dinner in their highly recommended restaurant Oxygen dining room, which was great (Thai French Fusion). While on the pricier side for Thailand the menu was astounding. We opted for the 6-course tasting menu including wine and had a fantastic experience.
The hotel is situated at the river and its either a 20 min walk or a 5 min ride into the city center of Chiang Mai.
As gay travelers how you feel staying at this hotel:  I would definitely recommend this hotel to gay travelers staying in Chiang Mai. The General Manager Ewan Taylor was very approachable for guests and helped with tips and recommendations for our stay. He dropped by every breakfast and greeted and chatted with guests making sure everything is perfect. Plus he gave great advice regarding nightlife and restaurants and cafes in Chiang Mai. We like most the casual attitude of the hotel and its staff.