As if anybody needs more proof that Thailand is a gay travelers paradise. We followed, Khoa and Rhonee (Hovinhkhoa & Rhoneerojas), one of Instagram's hottest gay couples who spent 8 days in Thailand, to find out what they thought.
Flying into Bangkok, Khoa and Rhonee spent their first two nights enjoying the best of Bangkok, regarded as the capital of gay Asia. Visitors flock to Bangkok for the food, culture, temples, shopping and its affordability. They then took the 1-hour flight with Bangkok Airways down to the paradise island of Koh Samui for 6 days of pool villa perfection.
Koh Samui is the travel brochure version of Thailand. Think white sandy beaches lined with palm trees and jungle-covered mountains. Like most parts of Thailand you can find hotels to match all budgets and styles however, Koh Samui excels in true 5-star luxury hotels. Private Pool Villas are the norm of the island. Read the full Gay Guide to Koh Samui.
This post contains references to products from one or more of our advertisers.
Day 1 & 2: an Urban Resort in the Heart of Bangkok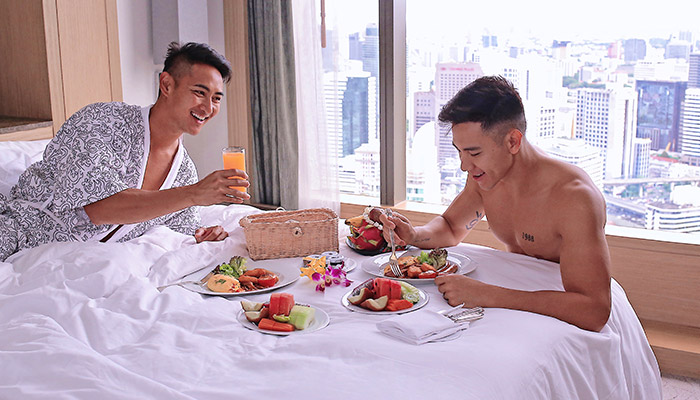 Banyan Tree Bangkok
We stayed in the Serenity Club room overlooking the beautiful Bangkok skyline. The room was spacious and very comfortable and it included an enormous tub in which we used to unwind at night after a busy day around the city.
The best part of the hotel experience had to be the two restaurants we dined at for dinner. The Veritgo restaurant situated on the roof deck serves a stunning 360 degree panoramic view of the city. The food was absolutely delicious. What was once a helicopter deck now converted into one of the hippest and trendy spots in Bangkok. The second restaurant we enjoyed was the Signature Banyan Tree restaurant Saffron. This restaurant offered innovative Thai cuisine and Southeast Asian specialties.
The Banyan Tree Bangkok exemplified superior service. Staff were extremely attentive to all of our needs. 5 Star service at its best. Next time you are in Bangkok, don't forget to book your stay here!
Any downsides to the hotel? Honestly, everything in this hotel is pretty faultless. From the huge rooms to the incredible restaurants, we loved it. If we had to pick something then it would be the walk to the MRT subway train, it's about 10 mins, along a busy road which in the Bangkok sun feels far.
Bangkok Airways - Thailand's Cutest Airport
Day 3 & 4: a True Lux Tropical Jungle Getaway
Belmond Napasai
We learned that at the Belmond Nakapasai, life is as quiet or as lively as you desire. We loved that you can choose to spend all day beside the infinity pool or in the spa or plunge into the vibrant island scene with their action-packed resort activities. The rooms are very private and very spacious! The service is 5 star!
Any downsides to the hotel? This resort is great for those looking to get away from it all. Not really a big issue but the villas are locked tradional keys (not keycards) and they are kinda big to carry around. Frist world problems, I know. haha
Day 5 & 6: Detox. Retox. Repeat.
W Koh Samui
We actually arrived at the W Koh Samui during their W Fuel Weekend, a kind of fitness-focused event with celebrity exercise classes, great, and delicious food.
What an amazing experience! We got to meet a lot of amazing new people, do workouts, enjoy meals together and party the night away. It wasn't just a hotel stay this was an experience! There are just so many things to highlight at this hotel. First and foremost our W Koh Samui pool villa was absolutely fabulous! What was unique about the villa suites is the fact that they give you an option to enjoy a refreshing shower outside or inside. Of course, we chose the outdoor option! The pool was also an amazing feature. It was one of the largest private pools villas we've seen to date.
Food options at the W Koh Samui are endless and they even have this place called the "Sweet Spot" where you can go and enjoy ice cream at any time during the day! The spa is also something to highlight. We enjoyed an amazing couples massage followed by some rest and relation in their tranquil dry sauna. When you're at the W Koh Samui you'll never want to leave! That's the feeling we got!
Any downsides to the hotel? For us not really, maybe if you are not in the social mood the Fuel weekend wouldn't be for you but we loved it.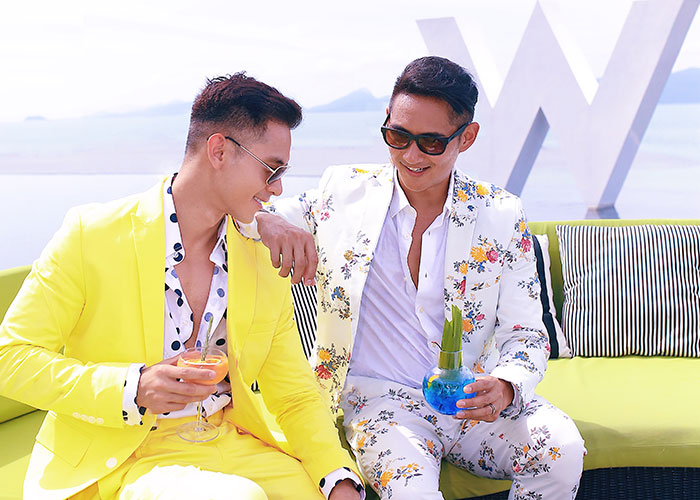 Day 7 & 8: Breathtaking Views From Your Infinity Pool Villa
Conrad Koh Samui
The Conrad Koh Samui is absolutely beautiful! We loved everything about this hotel. The pool villas are spectacular and the room is extremely spacious! We loved that they offer a beautiful floating breakfast, private buggies to transport you to where you need to go, attentive staff, and amazing amenities! We loved the specialty restaurants and we loved that we got to experience a private cooking class. Definitely a highlight of ours!
Any downsides to the hotel? We loved everything about our villa however the resort gym could include some more updated equipment.