Presented By:

The world's largest gay dance festival, WHITE PARTY is making its Asia debut in Bangkok with 4 massive parties spanning over 3 days (31 Dec 2015 – 02 Jan 2016). The organizers are gearing up to deliver an extraordinary New Year's circuit event you don't want to miss. It will attract party-goers throughout Asia and around the world! Check out the 18 reasons below to see why…
1. It's the first time to experience the world's largest gay dance festival outside the US.
2. See the gorgeous WHITE PARTY BANGKOK royalties who will be there.
https://www.instagram.com/p/2lHMUjJRx1/
Check out all the WHITE PARTY BANGKOK ROYALTIES!
3. They have the most current chart topping DJs and world-class entertainers.
4. With huge international superstar KAZAKY performing.
5. Heart pumping music to keep the party going all night.
6. The best venue imaginable!
More venue details
7. From world class gay party organizers!
8. All the gorgeous boys, of course.

9. They have been doing THIS for 25 years!
Jeffrey Sanker Presents: White Party 25 from David Neuendorff – 1 Minute Reel on Vimeo.
10. Eye-popping production is being planned!
11. It's in Bangkok!
12. They support men's charities as well. Test BKK – Suck F#*k Test Repeat.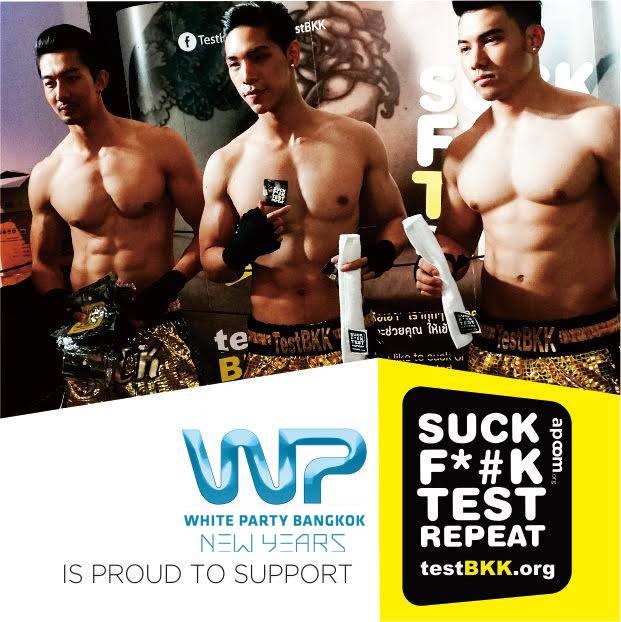 Test BKK
13. Meet hot Andrew Christian models.
14. You get to dress up!
15. They have a massive afternoon party at the most spectacular venue in the sky!
16. And these guys are the organizers (Blue & Nelson)
Follow them on Facebook: Blue & Nelson
17. Oh, did we mention all the hot boys?
18. And afterward, you can rest and recover in paradise.
Tickets for WHITE PARTY BANGKOK New Year are available now and selling fast. Party starts 31 Dec 2015 – 02 Jan 2016.
And if you needed any more reasons to visit WHITE PARTY BANGKOK. Check out Trasher Bangkok's top reasons to visit:
LIKE the WHITE PARTY BANGKOK on Facebook and JOIN their Facebook Event to stay up to date.