Behind The Viral Lens by Ad3ism
We got the chance to catch up with renowned photographer and all round talented artist Ad3ism. The viral photographer who, to much envy, spends his time photographing semi-naked beautiful guys. We asked him about his work and got him to share 4 lessons he has learned over the years to capture the perfect erotic shot.
1. Describe your photo style?
Male centric /homo-erotica with a touch of luxury, style and glamour.
2. Whose work has influenced you most?
If I may only pick one; photographer Leslie Kee, fellow Singaporean based in Tokyo.
3. Your IG bio discusses Wabi Sabi, so what is that all about?
It's a Japanese philosophy embracing imperfections in any object (e.g. cuts, scars, stretch marks, moles, wrinkles etc).
4. What is the one thing you wish you knew when you started taking photos?
I wished I had been 'technically' stronger, unfortunately, being kinaesthetic, I need to feel my way around to learn and that takes time.
5. Stripping down in front of the camera & crew can be intimidating. How do you make the models comfortable? Please say alcohol is involved?
I work alone and also prefer working alone; establishing mutual trust and a common ground right at the outset requires that I engage/ connect with my model(s) on a psychological/ emotional level. Alcohol, if used, is purely for staging (prop) or as a 'celebratory reward' post photoshoot.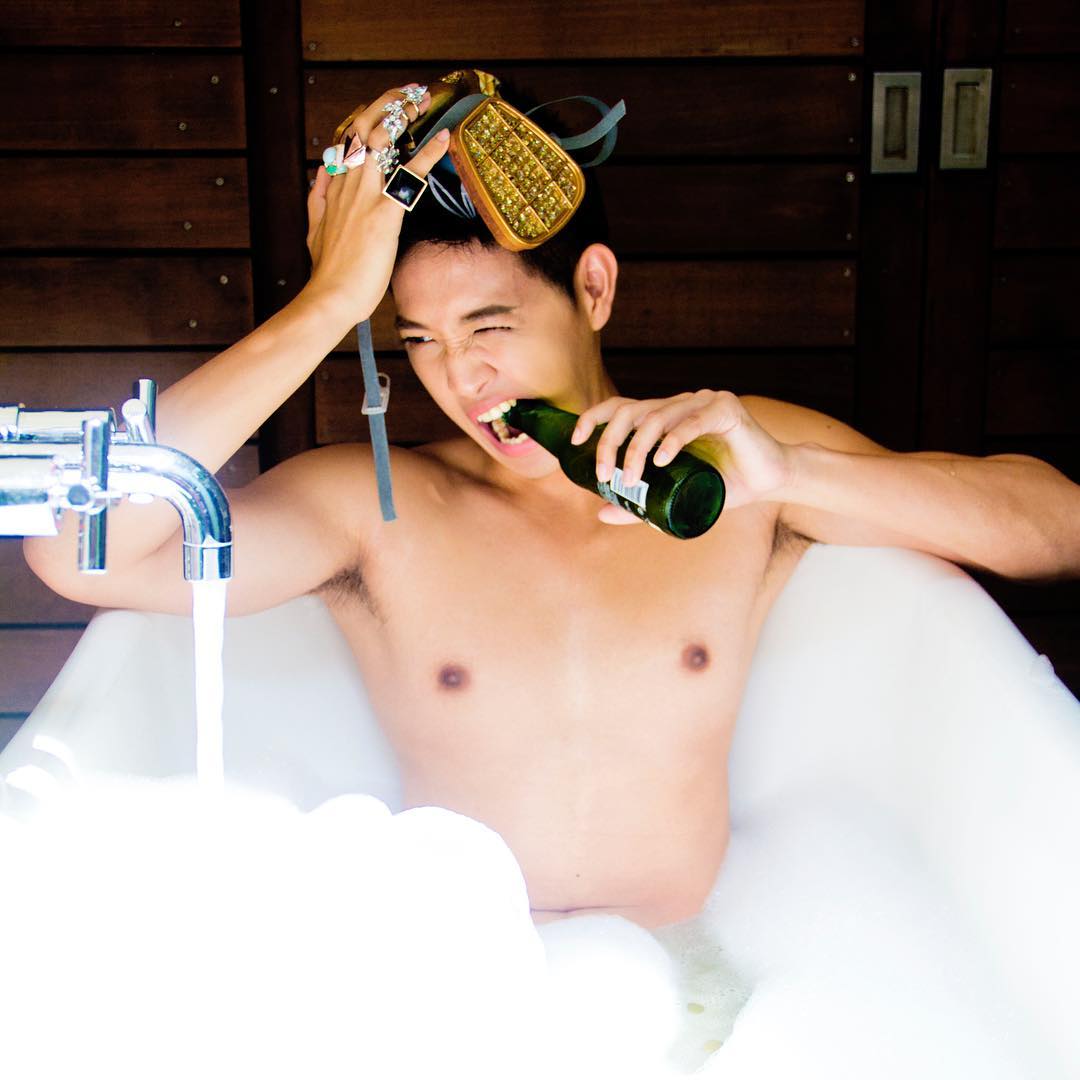 6. Do your models have to bring their own outfits or do you provide them?
Outfits, if/when required, are provided. I am also open to working with fashion designers/stylists who may be interested to collaborate with me in developing the ad3ism 'philosophy'.
They would normally ask for my preference and while I personally prefer "body and facial hair" I have not made it a pre-requisite.
8. Once the photo shoot actually begins, what happens? Do you coach people, saying things like… "say cheese"??
I do what they call the "inception" thing; planting an image or scene in the mind. If talking fails, I follow up with a brief demonstration. Hence, the facial expressions/ poses ("body language") you see are very much the model's own interpretation. It's very casual and impromptu.
9. Everyone has that "problem" area that he feels self-conscious about. How do you work around that? Will you Photoshop flaws at their request?
It is my goal to bring out the aesthetic best in models but there are times where 'flaws' are necessary to add a touch of "reality" to the "surrealism" in my photography. But it may be comforting for potential models to note that I was formally trained by MakeUpForEver Singapore, and, have been experimenting with "photo retouching/editing" way before photography.
Lesson 1: Communication through facial expression, eye-contact & body language
This is by far the hardest skill to master, especially, when it comes to invoking 'eroticism' in photos. In essence, it is about "directing" and how you would get your models into a "mood for romancing" freely, and without any inhibition, with you (the photographer)/ and your camera (lens). Just like 'sign language' where we used our hands to communicate, the way we looked at a camera (making eye-contact), positioned our hands (gestures) and body (human anatomy/ form), and how we view an object, under different angle or lighting, can have an effect on our mind.
Lesson 2: Sexual Tension
I associate sexual tension with an invisible 'force' that can be seen and felt in the images e.g., tearing/ ripping of clothes (intensity of action) or the come-hither look (intensity of eye-contact). Hint/ clue: My photos on Instagram are deliberately mellowed down.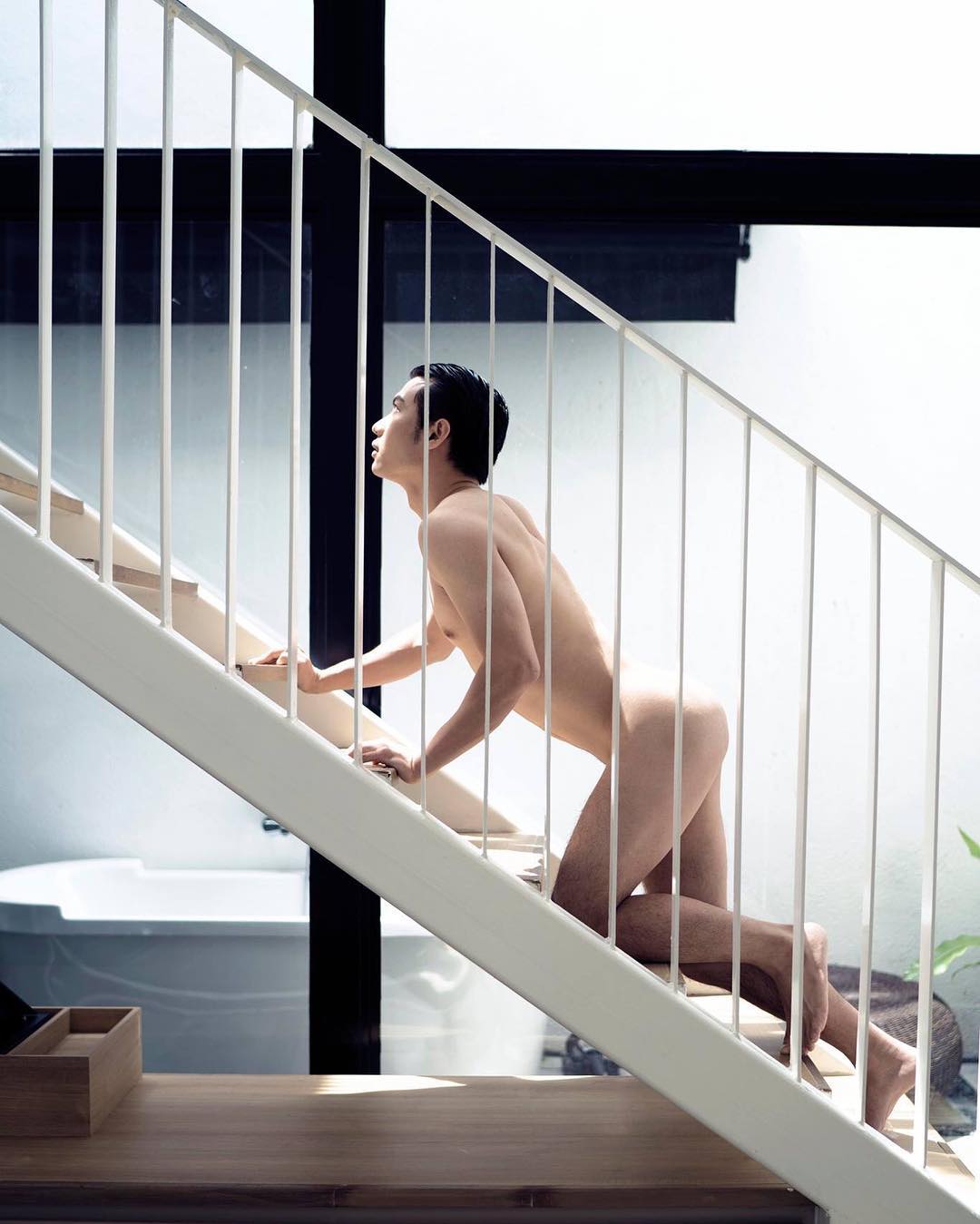 Lesson 3: Arousing the senses through sight
The thing about men is that we are visual creatures. So much so that we can 'feel' pain and/or pleasure through sight alone. So, when I'm working on erotic images, I focus on bridging virtually the 'distance' between the viewer and my models/actors in the photos, to an extent, that the viewer can almost sense – touch, feel and smell – the model(s) as far as the imagination carries them. It is important to ensure your model is well prepped from head to toes, you need to adjust the luminosity of his skin and hair. My personal favourite is to create a 'dewy' looking skin on both the face and body which can be achieved by using cosmetics (e.g., BB Cream), accentuated by a touch of facial/ body oil. When it comes to body or facial hair, which I prefer my models to have, is usually kept natural, but "under control" (not scraggly) for that extra feel or 'texture' on the face/ body.
Lesson 4: Playing Mind Games
Photography is about 'story telling', more often than not, we are relying on past events/ scenes that our viewers are familiar with, or can relate to, to convey a message. One of my photos did just that – I playfully created "Hungry Ghost Lovers" that I shot and posted during the Chinese 7th Month. However, I also adapted the "mask orgy" theme which was then making its round on the internet.