17 Questions with an adorable (ridiculously hot) gay couple
We've been lucky enough to get an intimate glimpse of their cute and sexy everyday moments in our new article. And of course, the whole point is to share it with you. It's all about the relationship of the hottest gay couples on Instagram who will quench your daily thirst. We will say no more, but let your eyes savour the love below.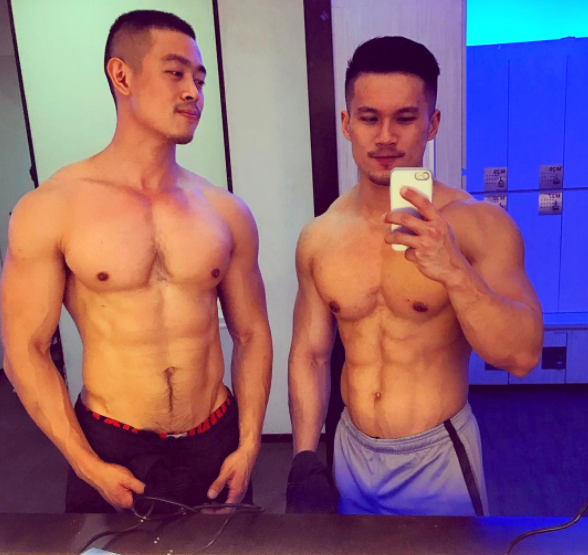 Elvin [Left] from Singapore and Argentino [Right] from Indonesia, They've been living together in Singapore for nearly 2 years. Argentino is a tech-guy and currently an Account Director in an online digital marketing company specializing in the technology industry. While Elvin has always been a pharmaceutical quality control microbiologist, he's currently a Quality Control Manager for Microbiology at a multinational pharmaceutical company.
Get Closer
1. One more time, "HOW" did you two first meet?
We met through Facebook in 2014.
Argentino: I sent a friend request to Elvin, but he never accepts the invitation for 6 months.
Elvin: I used to not accept a friend request from random people I do not know.
Argentino: I did not give up and kept adding him back until he accepted the friend request.
Elvin: I thought, this guy is quite handsome, he added me so maybe I should accept and see what happens. Then we started chatting through Facebook and arranging dinner together. After 1 year, we started going to the gym together and decided to date at the end of 2015. We finally got attached in January 2016.
2. One thing that you don't have in common that drives you nuts?
Argentino: Elvin is OCD when it comes to managing his finances as he keeps a spreadsheet on categorizing what we spend every month.
Elvin: Argentino is an uncontrollable spender, he goes shopping during lunch. It drove us nuts at the very beginning but now we complement one another. I manage the finances while he makes sure we have nice clothes and shoes to wear (lol).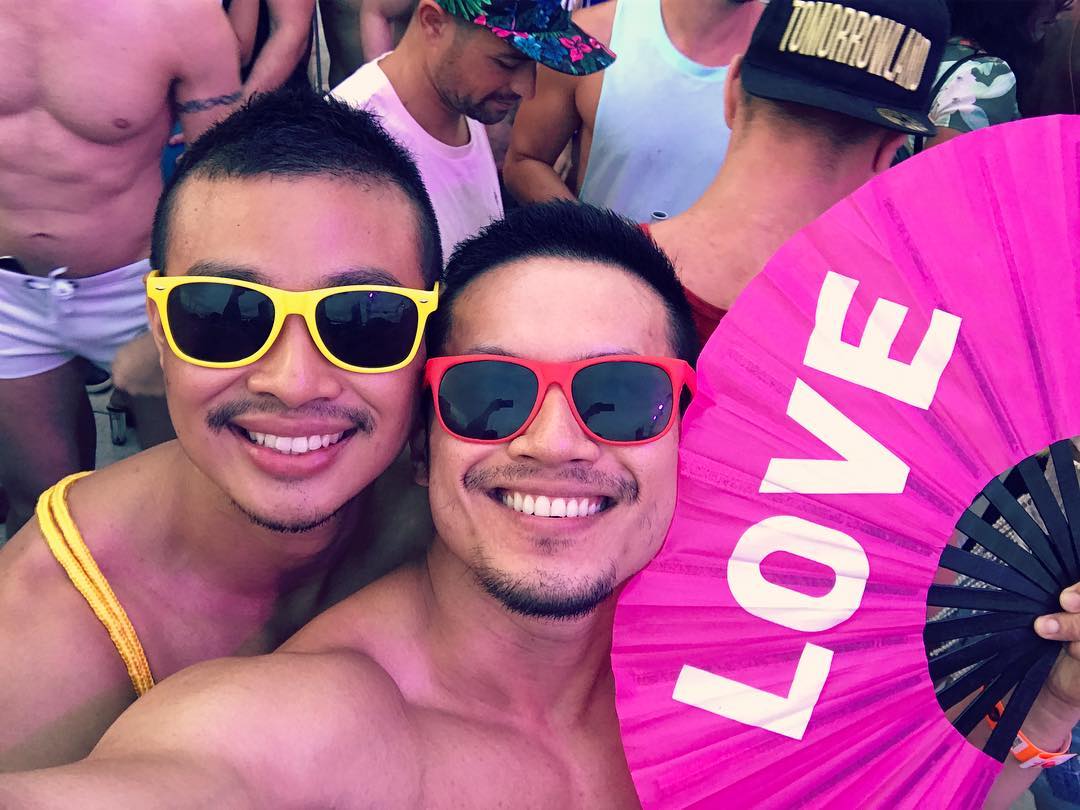 LOL
3. Your favorite part of each other?
Argentino: His manly chest hair (haha).
Elvin: His smile is so charming.
4. The cutest thing you have done for each other?
Argentino: During the 2016 White Party Bangkok, while we were still dating, he piggy-backed (tired) me from the party door to the taxi.
Elvin: He brought me some medicine and fruit juice to my house up to the North when I was sick during his working hours.
Thirsty?
5. Recall some of your thirstiest DM?
Argentino: I remember we always share hot guy's IG pic and profile together on DM and we are still doing that until now.
Elvin: I seldom get thirsty messages, but I got a DM asking me to do "woof woof" style, together with d*** pics. I thought you only get those on Grindr, lol.
6. Your favorite couples to follow on Instagram?
Argentino: @francescorome & @danipallo + @bibbideg & @giangideg
Elvin: @adamdpate & @bernardoverspermann, their travel together is what I aspire with my sayang (my love in Bahasa). Oh!, also our favorite porn stars (role model) @diego.lauzenrodrigues & @wagner_vittoria.
Relationships
7. Your opinions of open-relationship?
Argentino: I am pretty open to the idea. But I think the most important is to set the expectation right with your partner first. However, I am a true believer that every relationship shouldn't start with an open relationship until you have a strong fundamental with each other.
Elvin: I think an open relationship may or may not be the evolution of a long-lasting relationship. For open relationships to work, the foundation of the relationship must be strong and stable. There must be openness, communication, understanding, expectation and mutual respect for it not to be broken by being open. There is no right or wrong, those are societal constructs. What important is that two people in the relationship want and how they want to make it work.
8. Long-distance relationship, could you guys make it work?
Argentino: Not for me. But if both parties have the same direction on what they want to do in the future – then why not. Also, the point of being together is to build our future together, and it is hard to do when you are in a long-distance relationship.
Elvin: I prefer not to – even a week on a business trip and I miss him so much already. But I am a firm believer that life comes first. If an overseas assignment for either of us will make life in the future better, then it is something I am willing to make it work.
9. Would you like to have children in the future?
Argentino: Not for me. But curious to see how my children will look like so I am not sure how this thing works.
Elvin: Not at the moment. But people's needs, wants and desires change over time, so who knows?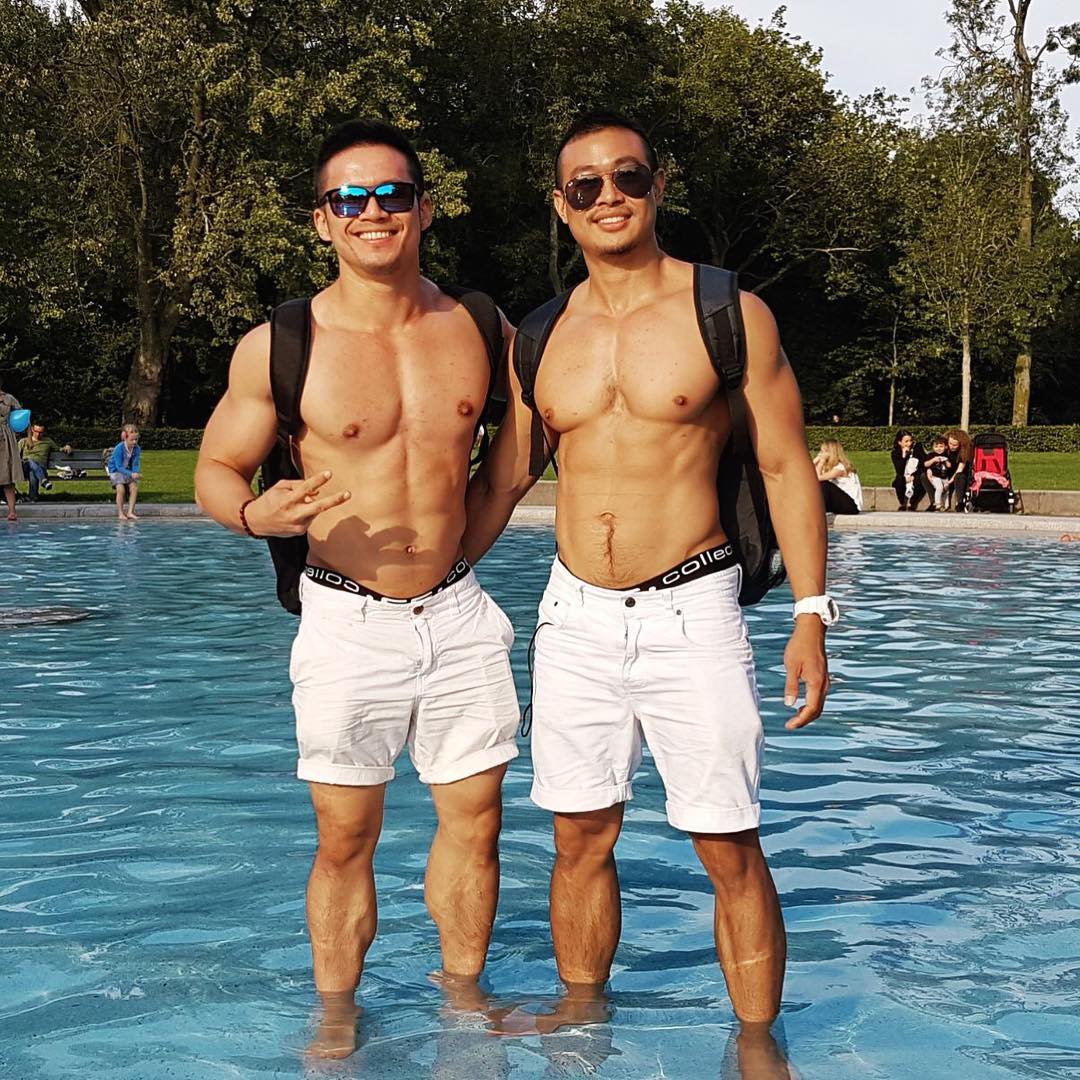 Travel Goals
10. Top three holiday destinations you want to go together?
New Zealand – We love driving during our travel trip, so we are thinking to drive campervans and stay in the van, get lost, and experience nature and spend quality time together as partners.
South America – To witness nature at its best: standing in awe of Machu Picchu (Peru), playing with perspective at Salar de Uyuni (Bolivia salt flats), marveling at the statue of the Angel Falls (Venezuela) and flying over the spectacular Mount Roraima.
The Balkans – Long history and culture, beautiful architecture, something we want to explore. The region has mixed scenery with many tall mountain ranges, as well as deep forests, plains, and rivers.
11. Has your travel style changed now you're a couple?
Argentino: Since I am a foodie, I spend most of the time searching for where to eat. I spend most of my money on food. But Elvin loves nature, so sometimes we have to balance it to have a great holiday together.
Elvin: I'm a nature and culture person. I can spend hours in a museum. I went on nearly a 15km hike up and down Bondi and South Congee while he was working. I can spend a day hiking but now I do lesser hikes trying to balance our holiday with just the right amount of nature and feasting.
Inspirations of Coming-out
12. Experience of coming out as gay?
Argentino: Coming from a small town in Indonesia – I was feeling fear. I was worried about many things, especially in families and social acceptance. But I felt so much better right now and even received tons of support from my friends, society, and colleagues. Coming out is not a crime, and we can still be successful in life, whoever we are.
Elvin: It was emotional. I remembered crying every night, beating myself for being different. I even ran away from home for a month for feeling like a disappointment. And then I came out to my sister. She was very supportive and made me feel like I wasn't a failure. Being gay isn't wrong, isn't a crime, doesn't make you a failure. Now my siblings know, and some of my cousins, but not my parents. I plan to tell them one day and bring Argentino to my parents.
13. Has your life changed since you came out?
Argentino: Not really, but I just feel no more burden in my life. And I can focus more on other positive things in life such as build the relationship and future together with Elvin, focus on career and be successful.
Elvin: I feel light, and feel like I can be myself. I have more gay friends now, people whom I can talk just about anything. But it hasn't really changed me fundamentally – I still the same person, work hard to have a good career, quiet and slightly introverted.
Life as a Gay Couple
14. Support from your friends and family to your relationship?
Argentino: yes they are and I am so thankful to have great positive friends and family surround me who have been supportive of our relationship. And most of them have been asking us when we are going to get married.
Elvin: yes my friends, my siblings and my cousins have all been supportive.
15. Any (extra) challenges of being in a gay relationship compared to straight relationships?
Argentino: The only challenge that I can think of is society, I really hope there is always an equal opportunity for gay couples to be accepted and have the same rights, like buying property and being able to be protected by the law as a couple.
Elvin: Yes, we are not protected by the law, so we need to make provisions for our future differently from straight couples. We need to buy property under our names, we need to have a will, we need retirement income and figure out a way to live in our twilight years with no children to take care of us.
Love is Love
16. Difficult parts of being in a gay relationship in your city?
Argentino: I think society is still conservative here although it is changing gradually. However, we respect that as long as we have space to live here and there is no discrimination towards gay couples.
Elvin: Yes, the law, but that's about it. Otherwise, we don't face outward discrimination and violence as others would have experienced in another country. Singapore is conservative, but most people are tolerant and/or ignorant/apathetic towards homosexuality in Singapore. Only a loud minority together with the government are the ones making the noise and causing all the disharmony.
17. Favorite parts of being in a gay relationship?
Argentino: We are almost sharing things together including clothes, underwear, and even our bank account to build our future together. We can be a brother, boyfriend, husband, holiday partner and gym buddy at the same time. The best decision that I made in my life, and no regret.
Elvin: Yes! There are many benefits to a gay relationship. Unlike heterosexual couples, we can understand one another better, emotionally, psychologically and physiologically. We don't need to interpret another gender. We can share clothes, we can walk around naked in front of each other. We can watch porn together (lol). We can experience the pleasure of giving and receiving, and one more thing – we can drooling together looking at hot guys *wink*
It's so important for us to send a message out there and hope to inspire our community, you can simply be part of it.
Share it and follow us on Instagram & Facebook.