Best Hashtag to Use on Instagram When Traveling!
Finally! it's time to reveal these amazing igers & their inspiring pics via hashtag #TheGayPassport on Instagram. Their romantic experience & useful travel tips will inspire your decision of where to hit next, for both single and duo travelers 🙂 Let's follow them & find out if they have the same fun bucket list as you do, shall we?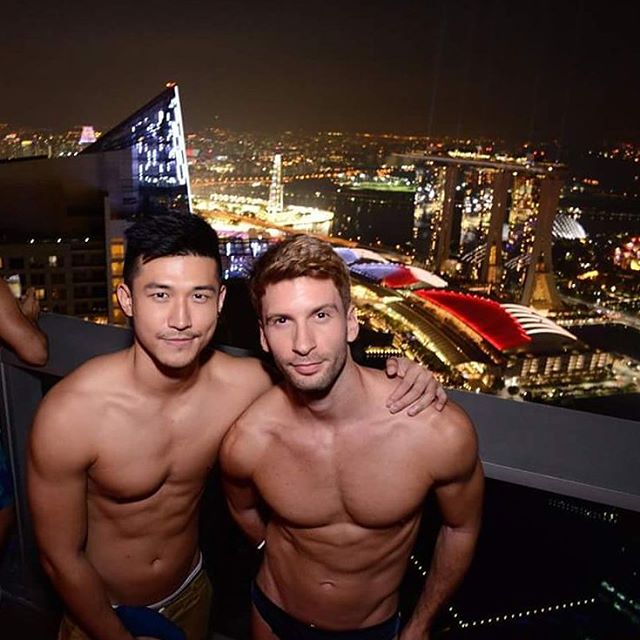 Edwin, Malaysia & Nicolas, Spain
Hardest when traveling as a couple? We have a lot in common so that makes it very easy when we travel together, no problem 🙂 
Bucket List? Sydney for a new year and we're planning for Europe trip in 2017.
First met? We text each other on Instagram when we both just moved to Singapore before we organized a dinner to meet. My (Nicolas) English was terrible but we got along well on our first date 🙂
Best trip together? It was the trip to Bangkok. The highlight was Songkran, the water fight along Silom Road.
Top 3 parties? Songkran in Bangkok, White Party BKK and Zoukout Singapore.
2. Valentine trip to
wonderful Thailand
Bernardo, Brazil & Adam, USA
Hardest when traveling as a couple? The hardest part for us is our sense of direction, Bernardo is not so good with giving directions. I drive and many times he has given the wrong directions 🙁
Bucket List? The next place will be to Leesburg, Florida and then in February, we will go to Thailand for two weeks during the Carnaval period in Brazil.
First met? We both exchanged a "few" liked on Instagram 😉 and first met at a little café. It was so lovely!
Best trip together? It will be Christmas because this is the first time Bernardo will visit a small city in the USA. I will show him around and he will also get to meet my crazy family 😉
Top 3 parties? We try to avoid "big" parties but we did really enjoy "The Week" in São Paulo.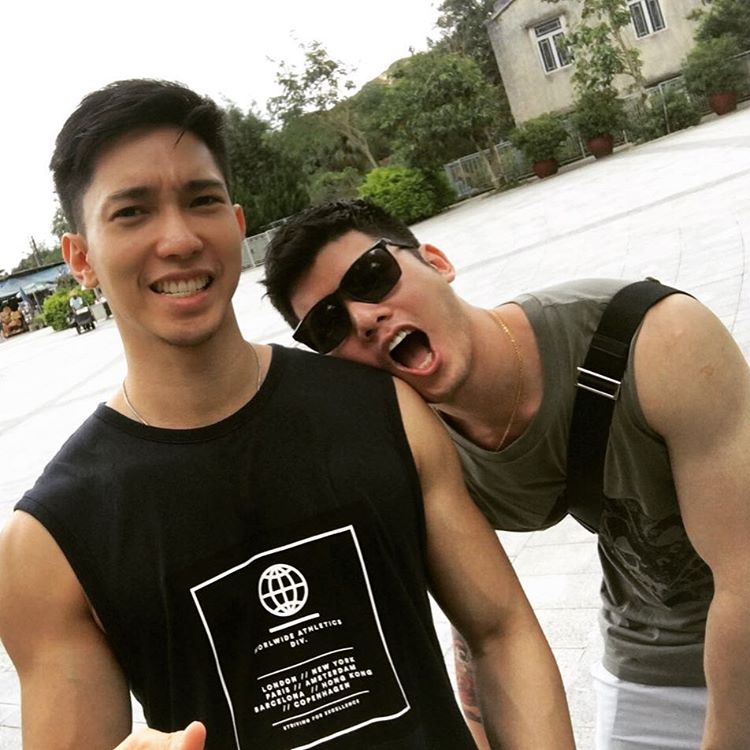 Hardest when traveling as a couple? Surprisingly nothing difficult as we both have a lot of similarities and I like to plan our trips in advance, which that helps 🙂
Bucket List? We'll be heading to Koh Samet in October (the most popular gay island in Thailand). 
First met? We met in Taipei over dinner with our friends. I (Clarence) chose to sit opposite Pete. We exchanged eye contact halfway through dinner and I moved my legs forward to footsie with his, lol
Best trip together? It was in Hua Hin, Thailand to celebrate Pete's birthday but it felt more like a honeymoon for us. Really romantic and we enjoyed the private pool the most. 
Top 3 parties? White Party BKK, Songkran in Thailand, Divine Bliss the 1st anniversary Party in KL. We'll be heading to ZoukOut in December SG, White Party Bangkok, and Songkran11 🙂
4. From Chicago to
charming Asia
Kyle & Jason from Chicago
Hardest when traveling as a couple? Honestly, it's pretty easy. BUT we share shoes & clothes so sometimes there's competition to grab what you want first! haha. Jason has zero sense of direction and relies 100% on me (Kyle) 😉
Bucket List? We're planning to visit Asia next year. As we're closing out the year strong with few trips before we relocate from Chicago to Miami to escape the winter.  
First met? We first met over 6 years ago on a consulting project in Milwaukee, the US.  We started off as friends for a year and then grew to a relationship 🙂 
Best trip together? We absolutely love dining in Spain, the beaches & sunsets in Greece, the historic & beautiful architecture of all of the countries in Europe. 
Top 3 parties? This is tough, Gay Armada/Gay Yacht Week in the British Virgin Islands, Braurosl Tent for Oktoberfest in Munich and Playa del Carmen to enjoy Mexico's nightlife.
Yuriy, Belarus & Tack, Thailand
Hardest when traveling as a couple? We don't really have problems at all. We have the same interest even for food. We try to plan our trips early which makes it easy this way.
Bucket List? Next city is Taipei, as I've heard people said great things about nature and we're totally down with it 🙂
First met? Our first met was at the gym where I worked, I (Tack) steal his phone number from the gym reception system and we were in a relationship 3 years later 😉
Best trip together? The best holiday together was Switzerland and the highlight was the scenery of green view and snow on top of the mountain.
Top 3 parties?gCircuit in Bangkok, Madrid Pride Spain and White Party Bangkok.
Jordan & Noah from Los Angeles
Hardest when traveling as a couple? Finding & making the time to take vacations is the hardest. So we have to do a lot of advance planning and preparation. You guys should too 🙂
Bucket List? We really want to go to Bali and Asia. It seems like the perfect balance of the history and architecture alone are worth seeing and those gorgeous beaches.
First met? Technically we met on a dating app, so there's absolutely hope!! 🙂
Best trip together? Mexico was pretty EPIC! and the highlight was the Cenotes. It was amazing caves with clear fresh clean water and it's our most memorable trip after 2 years together 🙂
Top 3 parties? We rarely party, because both of us don't drink, but NYC Pride last year was pretty amazing.
7. Thai hospitality at Banyan Tree Mayakoba
Sebastian, Germany & Johnny, New York
Hardest when traveling as a couple? Figuring out HOW to spend our time is hard. One is a very active person and another's goal is relaxation. This creates a struggle between us a little 🙁
Bucket list? Rio to celebrate the new year to experience Latin America together. Angkor Wat in Cambodia and Cape Town in South Africa next year.
First met? We first met in 2007 at a legendary club in NYC. I had just broken up and after dating for 5 years, we got married legally on the first day that gay marriage was legalized in NYC.
Best trip together? Playa del Carmen Mexico, it was the first time we experienced "thai hospitality" at Banyan Tree Mayakoba. The experience left such a strong impression on us that we decided to hold our wedding here.
Top 3 parties? Circuit Barcelona, Mykonos Xlsior and Songkran in Bangkok.
8. Next summer to Europe
Daniel & Conor from New York
Hardest when traveling as a couple? Well, we generally like similar activities. But the only difference is that Daniel is more of a night owl and Conor is an early bird, so compromising is needed 🙂
Bucket List? We're looking to do Mykonos next summer and also Mallorca, Spain or Corsica and France.
First met? We met through mutual friends and our first date was at Hillstone, a restaurant in Manhattan, New York.
Best trip together? Probably Lisbon and Madeira in Portugal, beaches in Portugal are unreal!
Top 3 parties? We're not into the circuit party but have had a great time at Market Days in Chicago, IL. Southern Decadence in New Orleans, LA. and yacht party in the port of Hvar Croatia.

9. Friendship grows into relationship
Hardest when traveling as a couple? Deciding where to go is always tricky as a couple but it's been very easy for us. LOL
Bucket List? Kenya, Africa to experience the top destination of wildlife and adventures.
First met? At a mutual friend's dinner party and we got together after been friends for 9 months 🙂
Best trip together? We're thinking to visit Paris to explore Chateau de Versailles (The palace of Versailles).
Top 3 parties? Gcircuit and Songkran Water Fight in Bangkok, Thailand.
10. Road trip wanderluster!
Andrew, Texas & Walker, Colorado
Hardest when traveling as a couple? Agreeing on the best place to eat! Also, Andrew has to put up with my terribly bad driving 😛
Bucket List? We're planning a road trip up the California Coast from LA to San Francisco, the inspiration? – I (Andrew) love California, I lived there and want to show Walker why I love it.
First met? We had met and been talking through Instagram during DC Pride in 2015 
Best trip together? Our best holiday together is a three-way tie between a road trip to Montreal last year, Grand Canyon and Playa del Carmen, Mexico.
Top 3 parties? DC Pride, Atlanta Pride and Market Days 🙂 🙂
11. Incredible Iceland
Thomas, Italy & Juan, Spain
Hardest when traveling as a couple? Definitely to have a holiday at the same time 🙁 so you have to plan it a long time ahead.
Bucket List? We are planning a trip to Iceland! Incredible nature, amazing landscapes and the curiosity to know more about Nordic countries.
First met? We first met on Instagram, and after two months of writing to each other every single day we met face to face in Barcelona.
Best trip together? Our best holiday was a two-week journey by car through France, Italy, Croatia and Montenegro. The highlight was Dubrovnik, it's magical atmosphere surrounded by its ancient walls & amazing nature.
Top 3 parties? Barcelona Pride 2016 and New Year Party 2015 in Sitges. 
 Use 

#TheGayPassport

on your travel pictures to get featured now!