I am going to talk about one of the places I love the most in life. I will take the liberty of telling you how my passion for Mykonos began. All was written really carefully and reviewed by both of us. It was hard work done with real love. Hope you enjoy and find it useful for your upcoming trip to Mykonos Gay Island.
In 2013, I was looking to do a gay Euro trip. After a lot of research, I discovered Mykonos as one of the best gay destinations on this planet. I posted on a website that I was going to do a gay backpack and I got 4 people to go with me. I loved it so much that I came back every other year from 2014, 2015, 2016, 2017, 2018, and 2019. It was going to be my eighth time in a row but it looks like it will stay for 2021.
Mykonos not only made me love all of the Greek cultures but also aroused my desire to visit more and more. Even though I live far away (in Brazil) and have the Euro as one very strong currency against mine (which often hurts my wishes).
The season in the Greek Islands runs from May 15th to October 15th. I recommend the month of June, it's an excellent choice for prices. July is already starting to get very crowded and August is without a doubt the most expensive month. Avoid any dates that are outside of what I mentioned above because it is cold and transportation between the islands is reduced significantly.
Prices
Also, of all the islands, Mykonos is without a doubt the most expensive one. Traveling in Greece is quite cheap. From restaurants to lodgings, prices are very good indeed. The exception is usually in Mykonos where everything is much more expensive. The island is reasonably small and everyone likes to stay in the best possible location, making prices soar. After all, the season there lasts only 5 months a year and it is very empty in the other 7 months. A pair of chairs and umbrellas cost in many cases 30 Euros. In some beach clubs, it is over 100 Euros. That's why I take my Brazilian Canga (sarong) or a towel and stay in the sand. LOL
Drinking
A drink at Jackie O' Bar is about 12 Euros or more. Outside you can buy something to drink paying much less. But you need to have 2 things in mind:
1. Like most bars, you can't enter Jackie O' Bar with outside drinks
2. It's important (since you don't pay to enter the bar) that you buy their stuff sometimes to help all the people involved, and they'll remind you.
Pay Attention
Greek people can be very rude in the way that they talk, whether you are gay or not. Have it in your mind.
Transportation
In Mykonos, the best thing to do is to rent a vehicle. And listen, Action Mykonos ([email protected]) is your best choice and I get nothing for saying that to you. Just send an email and negotiate with George. It makes all the difference to receive a differentiated service, from someone or a company that picks you up at the port or the airport and gives you a good vehicle at a reasonable price.
I rent quadricycles from the first moment and in the first year, I had problems. That's when I met George and people always thank me for that tip. Honestly, for me, Mykonos wouldn't be Mykonos without the famous quads (ATVs). But many people prefer to rent motorbikes or even cars. I would not recommend a car there, and I am afraid of a motorbike. It is part of the island's experience that you try something different than a car and feel the freedom that I felt in these last 7 years.
But you must be careful. Although is rare to see policing in Mykonos, they always say that there is and that you should wear a helmet. What I see is the exact opposite. Each one does what they want and that is exactly what the island brings you. Breach of rules and absence of pre-defined scripts. Here you are free to do almost anything you want. But be careful with your life and of others. After all, everything has or should have a certain limit.
There is also public transport and taxis there. Taxis, however, are difficult to get and buses have time for everything, they get full and pass in very few points. I don't recommend it – definitely not.
Access to Beaches
Despite being a small island, with many beaches next to each other, most of the time you are unable to walk from one beach to another. That's because there is a mountain or many huge rocks between them. Therefore, you need a vehicle to climb to the top, do the roundabout and descend again on the next beach, making the little distance, far, and very windy with a lot of curves road. Pay attention when you drive in Mykonos. Regardless of the mode of transport you use.
When Driving
Some traffic signs are written only in Greek but most are not. It would be nice to know some letters although it is not necessary.
Sunset
The best AND MOST FAMOUS place to watch Mykonos sunset is at the 180º Sunset Bar. It is beautiful but expensive. You can also make a reservation if it is your wish to contemplate the sunset with a separate table (that was not my case hahaha). I went only once, now that I took my fiance but I sincerely prefer the classic sunset near the windmills in Little Venice or somewhere else I discovered some years ago, near Boni Windmill. On the road, before reaching Chora.
Greek Cuisine
Pastichio: I always thought it was written like that because it's something I always had at home. But the "pastitsio" looks like lasagna, or pasta from the oven, with white sauce and ground beef – Greek style. I particularly find it delicious!!!
Moussaka: "is a type of lasagna made with ground beef and eggplant, typical of Greek cuisine and incorporated by the Turks due to the proximity between the two countries." If you're fresh like me, don't be alarmed by the eggplant part. It stays in the background and is more imperceptible than it looks.
Souvlaki and Gyros: "The Greek version for fast food. You find it everywhere and in general, it costs little. Souvlaki is like a barbecue, served on a plate or pita bread with sauce, salad, and chips. Gyros is the same as the traditional Turkish kebab, with the difference that they also use pork for that huge meat that rotates vertically – in fact, the name Gyros comes from there. It also comes in a pita, with salad and sauces."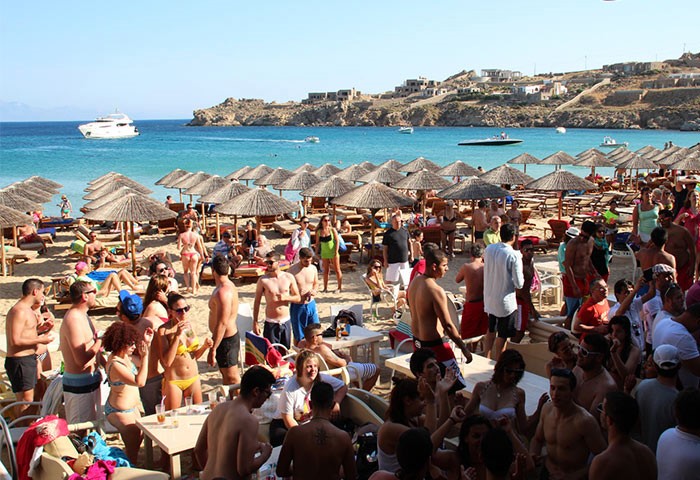 Eating
For dinner or lunch, I like the Nikos Restaurant (at Chora) and also the one on Elia Beach when you plan to visit the nudist beach maybe. In 2019, we tried and enjoyed a lot of a Gay owned Italian restaurant is called Catari Ristorante Italiano. He gave us a lot of tips about gay places.
Foodie Tip: There are many dishes in Greece that are very similar to Souvlaki. The difference is that Souvlaki is infinitely cheaper. I always order it with chicken on pita bread (it looks like a wrap) or like a barbecue on a plate and side dishes. TRY THEIR NATURAL YOGURT.
Best Bakery on the Island
On your way to Fokos or Elia (the nude beach), you pass through Ano Mera district. It is in the middle of the island and they have a wonderful bakery with the BEST chocolate cake ON EARTH (besides other delicious stuff). It is the only thing I bring every year to Brazil, Hahahahaha! And I don't mind driving almost 15-20 minutes (Each way) my quad just to buy things there.
Worth knowing bits
I like to say Mykonos is not the most beautiful island compared to the other Greek islands. Mykonos beaches are far but far from paradisiacal beaches. But it has its charm, its wind, its price, and its magic. The magic that takes you out of your comfort zone, year after year, placing you in a completely parallel reality. And you will always want more and more. Regardless of the time of life you are, Mykonos will always be on your route.
Mykonos was my first Greek island and since then I have known 16 islands: Mykonos, Santorini, Ios, Milos, Paros, Antiparos, Paxos, Antipaxos, Lefkada, Kefalonia, Zakynthos, Skiathos, Skopelos, Alonissos, Karpathos, and Rhodes. Each time I return to Greece I always try to put Mykonos and some other different Islands. There was a year that I had put together an entire script without Mykonos and in the middle of the trip, I had to cancel a lot of things to fit Mykonos in.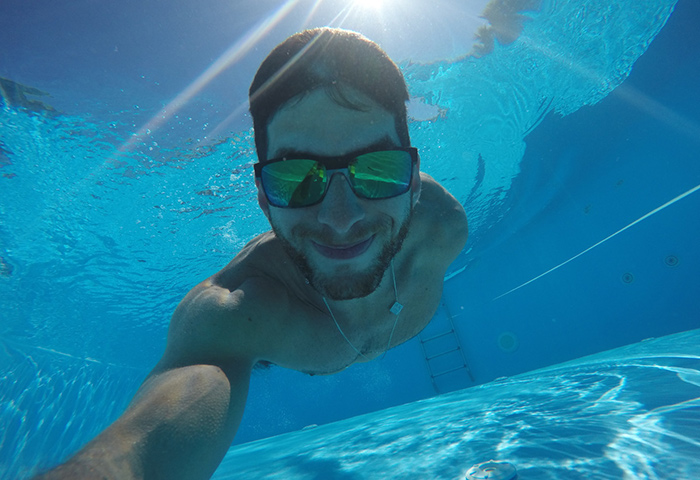 The Meltemi Winds (which might affect your holiday plan)
And so it is, every 7 days windy and 2 days without. You must take that into account because Mykonos is one of the hardest-hit islands for the Meltemi. Perhaps, for this reason, the windmills (symbols of the island) are damaged. Someone must have given up on redoing the work at some point.
Together with the Cycladic Islands (Santorini, Milos, Ios, among others that are in the Mediterranean Sea) are strongly "damaged" by the Meltemi wind. It is practically impossible to start telling about Mykonos and not to mention the wind. All of these islands are attacked by strong gusts throughout the season. And I can talk about it properly because many times it will be a stone in your shoes, it bothers and it bothers A LOT.
Because it is a strong and intermittent wind, the Greeks always complain. This year (2020) there was no summer, the whole season was windy. Or you can be very lucky because it could be windy for the last 20 days and then stopped for 2 days, though you better make the most of it.
As you made it this far, it's probably worth keeping in touch with us on Instagram & Facebook