Khoa & Rhonee an adorable married couple living in Hawaii in the US. Over two trips to Bali they visited three unique sides of the island to see what makes the island so famous for luxury retreats and exotic Bali holiday. What's more luxury than having your own private pool.
What is a pool villa? – Pool Villas are often the best room category at a resort or hotel. Most pools villas are a stand-alone house with both indoor and outdoor spaces designed to give guests extra privacy. Many will provide bedrooms and also living areas and a private swimming pool. Looking out for the wording of Plunge Pool, this is code of a small swimming pool. Pool Villas are perfect for those seeking romance and privacy.
This post contains references to products from one or more of our advertisers. We may receive compensation when you click on links to those products. For an explanation of our Advertising Policy, visit this page.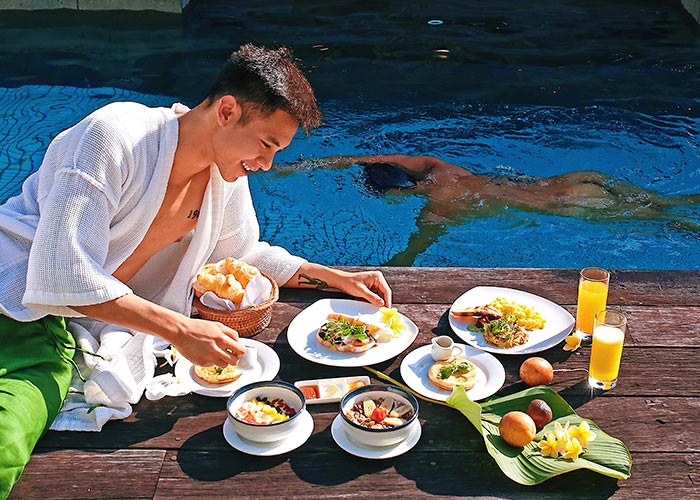 The couple started at Nusa Dua beach in southern Bali famed for its exclusive luxury resorts, white sandy beach, and ideal swimming conditions. The family-friendly beach is Bali's most developed region and with its well-planned layout the upmarket shopping malls, temples, and even a museum blend in behind the pristine beachfront. Nusa Dua also offers access to the gay nightlife of Bali in Seminyak but gives you the distance to relax away from the crowds during the day. Seminyak is located 30 minutes to 1-hour from Nusa Dua, traffic depending.
Khoa and Rhonee also visited the tranquil Keramas Beach stretching 1.8 kilometers along the south-eastern coastline. Keramas is one of Bali's iconic black sand beaches where the sand is made from the dark-colored volcanic minerals and rocks. Finally, no trip to Bali would be complete without visiting the famed mountainside rice fields. The town in Ubud offers the perfect blend bohemian creativity and exclusive luxury.
Pool Villas on Bali's Most Desirable Beach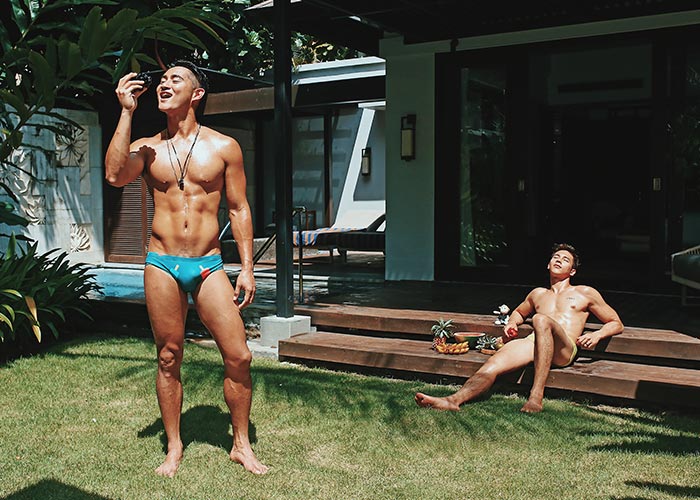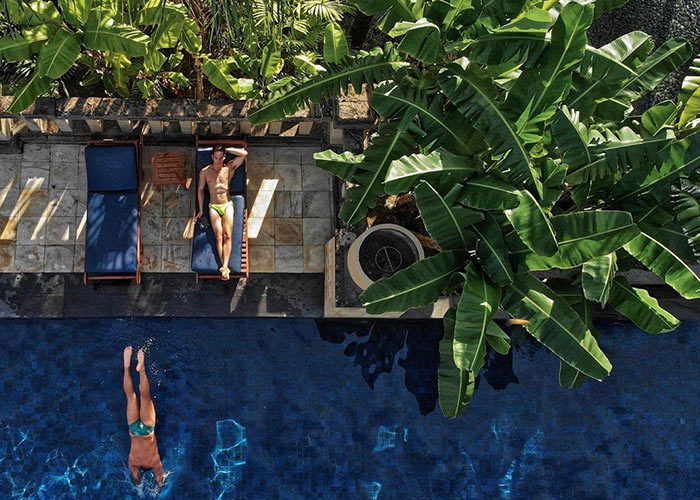 My husband and I had the pleasure of staying at the Conrad Bali and all we can say is, "WOW!" We stayed in a private suite villa which included our very own garden with a nice seating area, outdoor hot tub, and a nice sized plunge pool. The villa was absolutely beautiful and spacious but more so we enjoyed the privacy and the quietness of its location.
When and if you do have time, we recommend having lunch at the Rin Restaurant. Located near the villa suites, we enjoyed a delicious Japanese cuisine meal. For dinner, we headed down to have a romantic meal right on the beach at the Eight Degrees South Restaurant. Loved the lobster! Don't forget to save some room for dessert!
We also recommend trying a massage treatment at the Jiwa Spa. We experienced the Balinese couples massage and we both agreed it was one of the best massages we've ever had! After the treatment, we relaxed a little more at the spa's private infinity pool. The area was completely private as we were the only guests there at the time.
Any downsides to the hotel? 
The Conrad Bali exceeded our expectations in all categories and we definitely recommend this property to everyone traveling to Bali who is seeking a true luxury resort. There are only five pool villas at the hotel so they don't come cheap.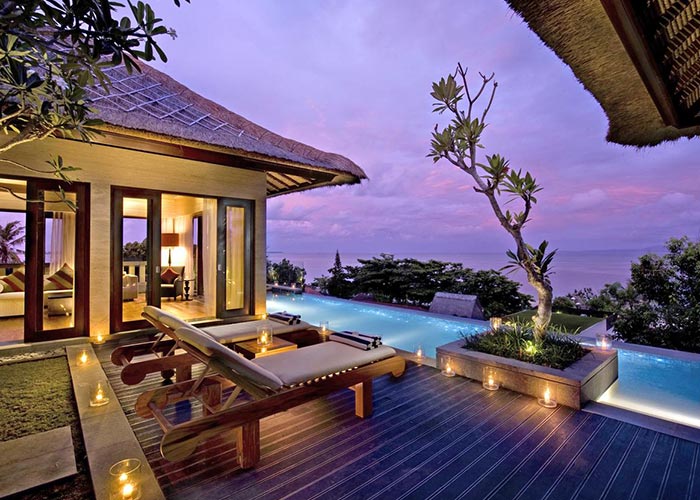 Private Oasis on the Black Sand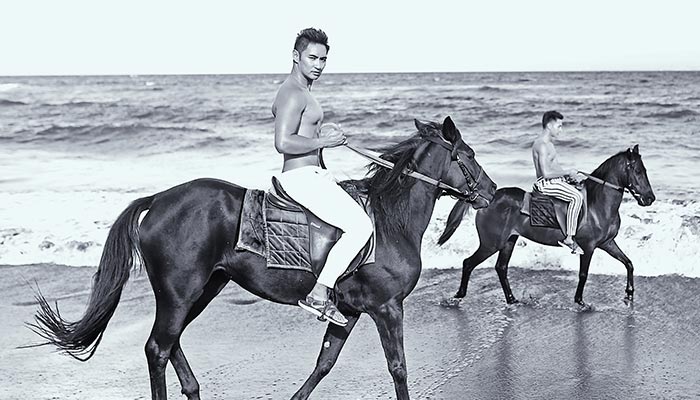 Komaneka at Keramas Beach was an absolute private oasis! If you want a romantic getaway, my husband and I would definitely recommend coming to this amazing resort. Our amazing villa included our very own private pool with a 360-degree view of the Indian Ocean and the neighboring island of Nusa Penida, and the holy volcano Agung. We also loved getting up in the morning and running on the black sand beach located just a few steps away from the hotel. Another highlight of our stay was the floating breakfast in the pool. Don't dare to miss it! The staff were extremely helpful and gay-friendly which also made our stay one we will never forget.
The Komaneka at the Keramas felt less like a hotel and more like a beach home by the sea with 5-Star quality service! We experienced a contemporary style of Balinese architecture with fine woods and luxurious interiors and had access to a beachside swimming pool, spa, and fitness center.
Any downsides to the hotel?

The resort is ideal for those looking to get away from it all but this also means there are fewer places in the neighborhood for eating and drinking outside the hotel.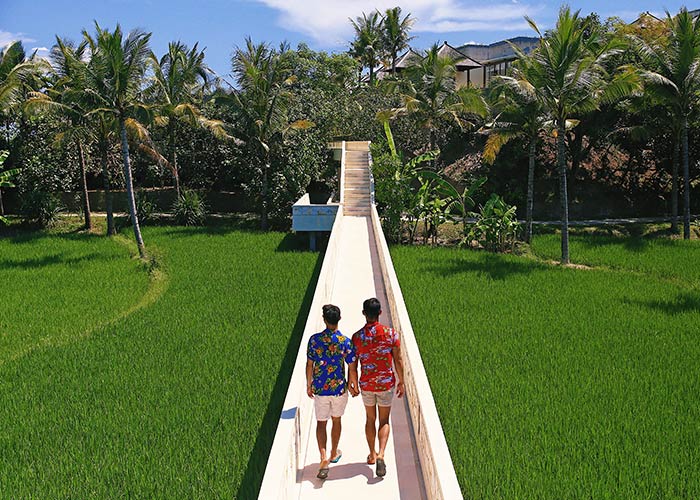 Luxury in the Rice Fields of Ubud
If you want tranquility, superior location, spacious rooms and luxury romance, then we highly recommend staying at The Purist Villas. The resort is located in Bali's spiritual and artistic homeland in the heart of Ubud. Plus the hotel team are so gay-friendly.
The Purist Villas embodies the ancient Hindu beliefs of balance, harmony and purity of spirit. Staying at The Purist Villas and Spa was an absolute dream. Our villa included our very own private pool, an outdoor shower, relaxing stone tub for two and a spacious living area in which we were able to enjoy our meals and do our daily yoga exercises. The hotel offered two amazing community pools overlooking the jungle and the gym is just a five-minute jog from the hotel.
We loved that fact that The Purist gave us privacy in such a very good location. Not too far away from the small town, we were able to take the hotel shuttle if we wanted to leave the resort. We definitely enjoyed our stay and would love to return again soon!
Any downsides to the hotel? 
It is tough to improve an already flawless resort but to get picky I would have liked a breakfast buffet rather than selecting from a menu. Other than that, I really don't see anything else that could be improved upon.