Want to go to the Maldives but don't know where to start?
Ready for a gaycation in the Maldives? Our jet-setting insiders have got some insider tips to make your trip unforgettable. First things first, pick your dates and budget so you can narrow down your search. And when it comes to accommodation, go for full board to save on pricey meals and have more cash to splash on wild water sports and epic beach parties. These guys have been there, done that, and are now spilling the tea to make your trip a success. So pack your sunscreen, your cutest swimsuit, and get ready to soak up the sun in this tropical paradise.
Cyrus & David, Malaysia – Gay Maldives Interview
1. How many times have you been?
I first went with 3 of my best friends for a quick getaway in 2012. The second was with my boyfriend (now fiancé) for his birthday together with two of our good friends in 2015. The third time was a working collaboration with an airline in 2018.
2. Why the Maldives?
The Maldives has always been the ultimate beach holiday destination for me. Plus it's only a short direct flight from Kuala Lumpur, where I live.
3. Were you nervous about making the booking as a gay traveler?
I am aware of same-sex laws in the Maldives but I was not at all worried about visiting.
4. Did you experience any negativity when you arrived?
I did not experience any negativity on any of my trips to the Maldives. People were friendly and most helpful. I was not treated any differently from the other guests that were visiting. Never at any time did I feel self-conscious or unsafe or unwelcome.
5. Does it look just like on Instagram?
The Maldives does look as gorgeous and picturesque as what you see in pictures. Pristine beaches and picture-perfect atolls everywhere you look.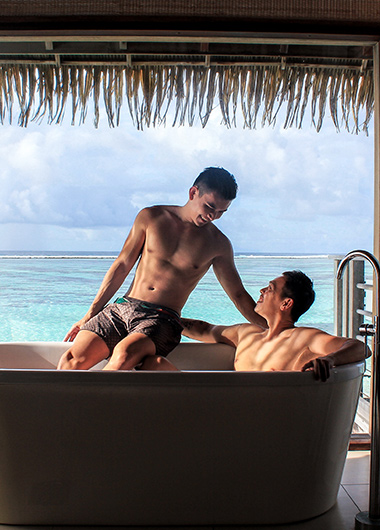 6. How did you make the most of your stay?
Most mornings, after breakfast, are spent snorkeling around the resorts looking at colorful fishes and corals. I've visited some of the fishing villages on the other islands to have a look at how the local lives.
Then a long lunch before lazing at the pool or reading a book on the outdoor patio of the overwater villas. Then more frolicking in the ocean before dinner. After dinner, I will usually take a walk on the beach or have drinks with my friends under the night sky lit up with thousands of stars.
Most resorts are rather quiet so there's not much of a nightlife although I did stay in one resort that offers nightly entertainment with all the guests and staff which was rather fun.
I've stayed in both beach villas and overwater villas and I would have to say there is nothing more wonderful than the surreal experience of the overwater villas. The magnificent sunsets and sunrises over the water villas are just otherworldly. And nothing beats being able to jump straight from your villa into the ocean. At night while in bed being lulled to sleep by the sound of the waves lapping underneath the villas is heavenly.
8. It's not a cheap destination, how would you rate it to other beach destinations?
It's definitely not a cheap holiday destination. Obviously, the most luxurious resorts are the most expensive. Even the mid-range resorts are somewhat pricey although they too provide wonderful experiences.
9. Tip for Maldives virgins?
Pick your accommodation carefully. It's best to book full board accommodation where all your meals and activities are included. Meals and water sports can be expensive.
Depending on your budget but a minimum stay of 4-5 nights would be enough. Best to go during the dry season between December – April.
10. After your 3rd trip, would you (still) go back for more?
Most definitely! It's paradise after all.
Luca, Italy – Gay Maldives Interview
1. Is it a once-in-a-lifetime experience holiday destination?
I've been to the Maldives 3 times, during the rainy season and the dry one. This is because I love these islands so much. I've been there last time in June 2019 with my husband in one of the best resorts I've ever seen in the world. From Italy, it is a medium-range flight of about 12 hours, so it is not so difficult to arrive in this heaven. The internal trip is usually comfortable too also because the waiting area is inside a private lounge where you can refresh and take some snacks or cold beverages.
2. Why is that significant?
The Maldives are amazing islands. It's so peaceful, relaxing, and the perfect spot for enjoying beach life, the blue sea, and the reef. You feel like being in the middle of the ocean, with that so tiny island all for you. I love this feeling.
3. As a gay traveler, should one be nervous going to the Maldives?
You arrive with an international flight and are dropped directly to your island and your international resort. This is why you should not feel any discomfort about being gay. You will feel at home in the resort. I didn't feel any discomfort or prejudice neither in Male city, where I spent one night on my way to the Maldives.
My husband and I went for a walk in the city and spent some time in a bar on the beach, but none criticized us in any way. We didn't show any intimacy in public, but we are not used to showing intimacy in society either where being gay is legal. No problems for us.
4. Did you get any comments or looks from local officials, hotel staff, or from other guests?
No, not in any way. We choose a very high-level resort and the staff has been every time kind, polite, always friendly, and helpful. We had a king bedroom and the staff could know we slept together. Every day the room attendant made flower compositions and took care of our room as he has done for each of the other rooms.
5. Is it really that picture-perfect beach holiday destination?
It's real. It also depends on the resort you choose, where you will sleep and if the island has a good reef and laguna or not, but it's difficult not to love the Maldives. White soft sandy beaches, calm blue and hot sea, usually good wheater, good food, and a lazy and
relaxing atmosphere. It's truly the perfect paradise.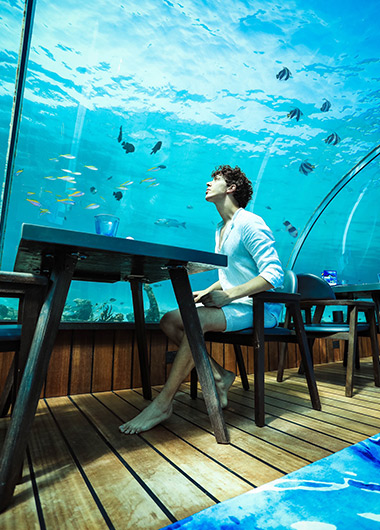 6. Must do activities, did you visit any other islands?
It depends, most of all, on your way of life. Swimming, diving, or taking the sunshine are some of the best ways. Nightlife is all about live music or cinema or simply drinking a cocktail with your loved one.
Be sure to book for an all-inclusive service because drinks could be very expensive there. Do you want to live a "life experience"? Why not have dinner at an undersea-level restaurant?
7. Overwater Villa or Beach Villa?
I stayed both on a beach villa and in an overwater villa. I would undoubtedly choose the overwater villa again. The feeling of being in the middle of the ocean is fantastic there. And yes, it is worth it!
8. The Maldives is known as a luxury beach holiday destination, what else would you say?
A holiday in the Maldives is like eating a dessert. You can be sated with your dinner but you can't give up your dessert, it's too attractive. The sandy beaches and the fantastic sea are just within walking distance in a perfect nature spot. How can't you love this?
9. Any tips for the first-timers?
I suggest you stay in a high-level resort if you like luxury and very attentive service; choose for a more simple retreat if you like being entirely immersed in Nature.
The best time of the year is the dry season, which is from December till April and the best months are February and March. However, you will find the sun also during the rainy season and, if you are lucky as I was last time in June, you could find an utterly sunny week even in the wet but less-expensive season.
10. Can you get enough of it?
I've been there three times and I would go back again and again.
1. Tell us your trip stories to the Maldives?
We had both been before we met but our first trip there together was back in 2006, merely a year after we had started dating. It was a kind of "honeymoon" so we wanted to go to a special place. We found a special offer from a travel agency and got a very good deal at the Four Seasons Kuda Huraa. As it was in October, the end of the rainy season, we even got a better deal.
2. What made you pick this breathtaking natural beauty?
We had both been there previously and had loved the destination so we wanted to indulge ourselves with something special, as we both knew what a paradise The Maldives are.
3. Were you nervous about making the booking as gay travelers?
No, we were actually quite comfortable. The travel agency did not lift an eyebrow when we booked what they today call a "Sunset Beach Bungalow with a Pool".
To be honest, we did not think about the local laws or attitudes knowing that the resort benefits from a special status within the local laws. In all of our experiences there, we have always felt discretion and politeness from the locals working in the resorts towards us. This was the case in all the resorts we have stayed at (4 different resorts in total).
4. What was it like traveling as a gay couple in the Maldives, any weird looks from the locals?
No, we never felt any negativity. On the contrary, we sometimes felt curiosity from the locals working in the resorts. Never did we hide our relationship so it must have been very clear to all that we are a couple.
5. Is it true the Maldives looks like absolute paradise on the internet?
It is, it truly is. We returned twice after the initial trip together to other resorts. Every resort offers something unique and different such as facilities, a spectacular setting of a palm tree island with pure white sand set in the blue ocean.
6. What hot to do during the day, and any nightlife to speak of?
We are both keen divers and this is a paradise for divers. Not only because the waters are warm, but the marine life you get to see is so numerous and spectacular. Sadly the coral reefs have suffered a lot from the rise of water temperatures so many are dead. But the fishes make it worth the dives.
Also, many islands offer gyms, spas, outdoor cinemas, lots of restaurants, pools, some even bicycles, fishing or nature walks so you never really get bored. Some islands have discos but honestly, you don't want to hang out in those here, you just want your sunset cocktail and dinner and head to sleep to be ready early for a new day.
7. Overwater Villa or Beach Villa?
We have tried both and prefer a beach villa, as the tides are very high and the water can get noisy. Also, the shade of vegetation is wonderful, water villas do not offer this.
8. What can one expect when traveling to the Maldives?
If you are a super active explorer, looking for an authentic cultural experience and want to meet the locals, this is not your destination. The Maldives is for relaxation, good international food (with some local touch though), exclusive accommodation, and excellent service. Even in a big resort, you can feel privacy and exclusivity.
9. How long would you go for? Share your wisdom…
I would avoid Christmas and New Year as the arrangements get really expensive then. You can get good deals off-season or right at the beginning or at the end of the season (as of mid-October or then after Easter).
10 days seems like the ideal, one week is always too short (remember, you have to spend a night or two on the plane from Europe) and two weeks might get boring unless you decide to change the island in the middle of the journey. We did this once and it was a very good solution to stay for two weeks.
10. Be honest gents, would you go back?
Definitely, yes!
As you made it this far, it's probably worth keeping in touch with us on Instagram & Facebook